Ok, let's see if a personal type of post will interest you at all. 🙂 I've mostly written information posts so I'm testing new waters now!
In 2020, I completed 9 puzzles.
It was a year my love of puzzles was rekindled after being dormant for a few decades (read more on my About page). I have the global pandemic to thank for that.
I bought my first puzzle of 2020 in March and started puzzling right away.. 9 puzzles in 9 months. That's a good speed, I think.
I'm quite busy with work and other projects, so my puzzling is strictly limited to the free time that's left.
There are totally times, especially when nearly finishing a puzzle when I get in the flow so much that I can't stop. Do you know the feeling?
When you grab a puzzle piece and immediately know where it's going to fit. These are the times when I allow it. But at other times, I try to keep my addiction in check 🙂
In 2020, I went out of my comfort zone. I tried different puzzle brands than just my favorite Ravensburger and other types of images than just travel scenes.
If you'll feel inspired and will want to get your own puzzle of the same design, I've included Amazon links when possible.
Lastly, if you're interested in my newer puzzle overviews, here they are: jigsaws I finished in 2021, my puzzles completed in 2022.
March – April: Waterfalls by Ravensburger
2,000 pieces
Being the first puzzle I finished after a long break, I enjoyed this one tremendously. Sure, it was quite difficult with the higher piece count, but Ravensburger quality didn't disappoint.
Check this Ravensburger Puzzle on Amazon.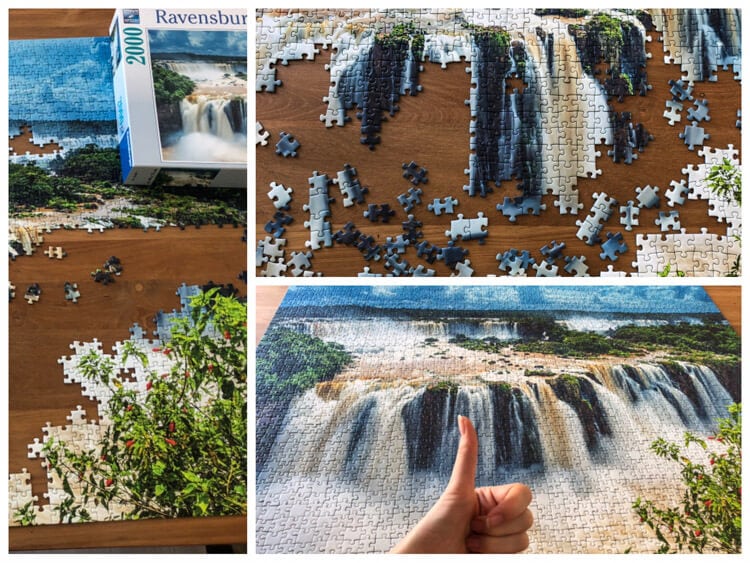 April – May: Mountain Scene by Trefl
3,000 pieces
I got confident and aimed for even a higher puzzle piece count. Well, 3,000 pieces of a mellow mountain scene were quite the challenge. The individual puzzle pieces also didn't fit as perfectly as I was used to, so that led to a little frustration.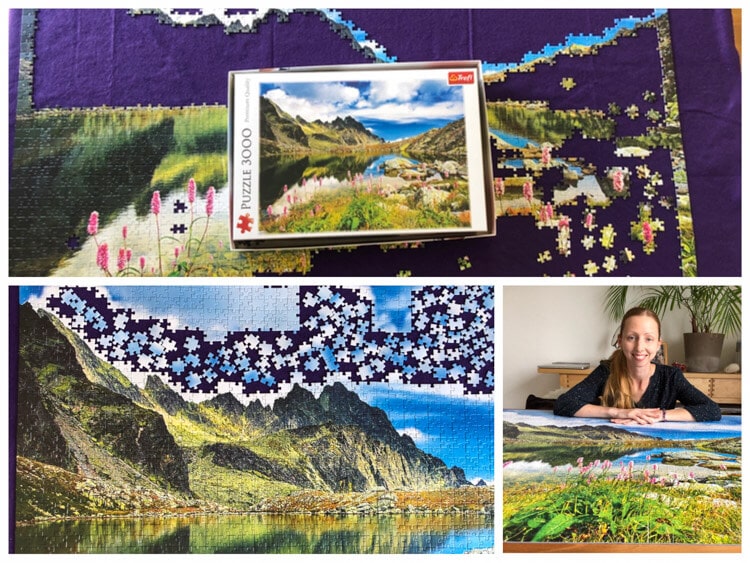 June: Neuschwanstein Castle by Dino
1,000 pieces
I had to go back down to a 1,000-piece puzzle. This one actually fitted my table perfectly again and I didn't have to use the rolling matt anymore. I deeply enjoyed this puzzle and loved the quality, even though the pieces didn't fit as snug.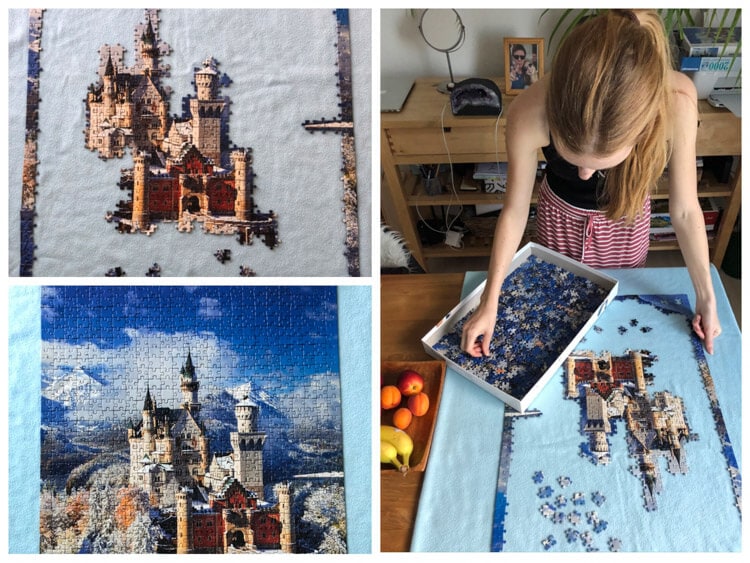 July: Christmas Scene Puzzle by EuroGraphics
1,000 pieces
I went wild in July and bought a Christmas puzzle by one of the traditional American brands. It was the first time I solved a puzzle with completely irregular and random shapes. While it became slightly frustrating to put the frame together, since more pieces had what seemed to be an edge, I grew to become fond of the funky pieces.
Check this EuroGraphics Puzzle on Amazon.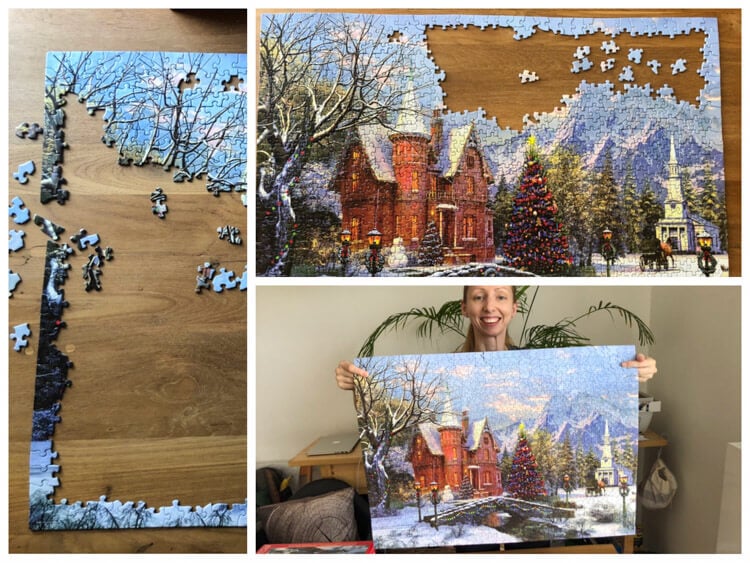 August: 3D Globe Puzzle by Ravensburger
540 pieces
I wanted to try a 3D puzzle and picked one that I'd keep assembled as an interior design piece. Since I love traveling, it had to be a globe!
To be honest, I'm not sold on 3D puzzles after this experience. I don't enjoy plastic pieces and the puzzle was not too interesting. There were numbers on the reverse side, which I followed… and found a bit boring. The result looks pretty, though!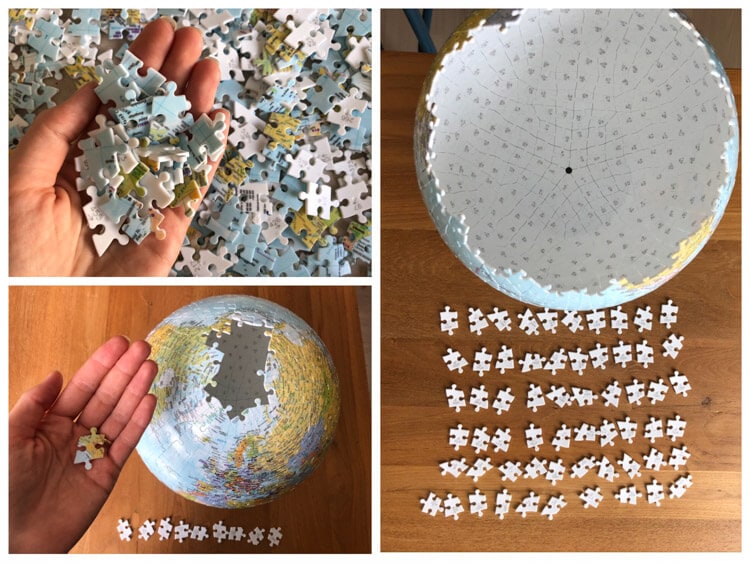 September: Horses by Castorland
1,500 pieces
This puzzle was of great quality and I liked solving it. In the process, I began seeing little "secrets" – hidden images within the image!
There was no mention of that on the box, but I did count several horse heads hidden in palm trees, inside the visible horses, etc. What a fun extra level of puzzling. 🙂
Do you love horse jigsaw puzzles too?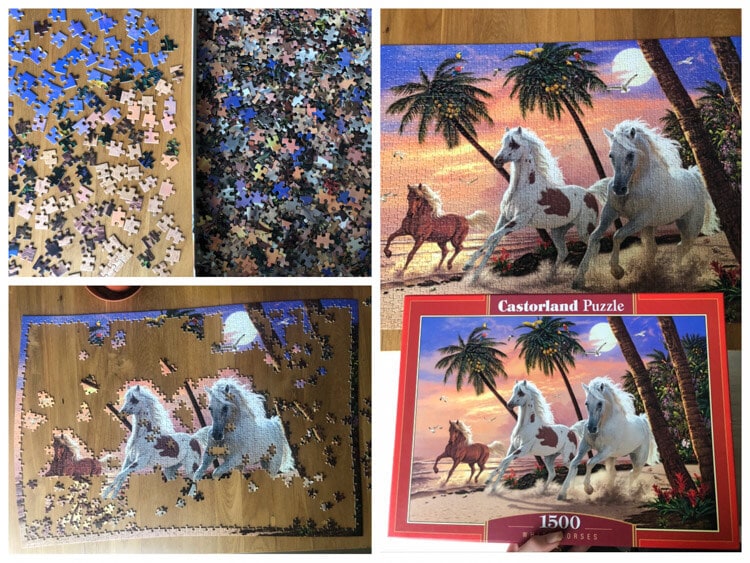 October: Tropical Beach by Ravensburger
1,500 pieces
By October, I craved the beach. I picked this beautiful tropical beach by Ravensburger and it was a lovely experience. Even though I generally don't glue my puzzles and prefer to keep the walls of my apartment pure white, I might make an exception with this gorgeous beach scene puzzle.
I plan to solve this puzzle again in 2021 and put it up on the wall! Wish me luck.
Check this Ravensburger Puzzle on Amazon.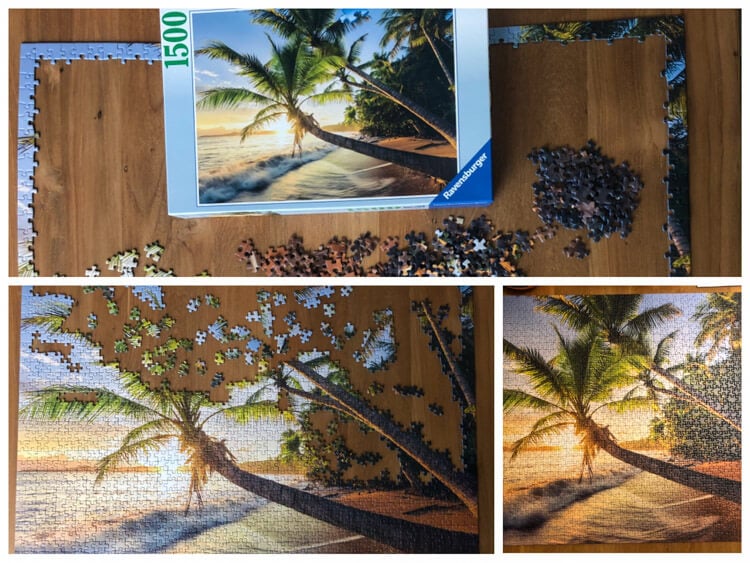 November: Puppies by Anatolian
1,000 pieces
I've wanted to try this brand for a while. It's actually great! Minor setbacks include a slightly loser fit (not easy to move sections) and a bit of a glare. The puzzle is of good quality, though, and each piece fits only one spot.
I've covered this puzzle in my overview of the best dog jigsaw puzzles. Check it out!
See this Anatolian Puzzle on Amazon.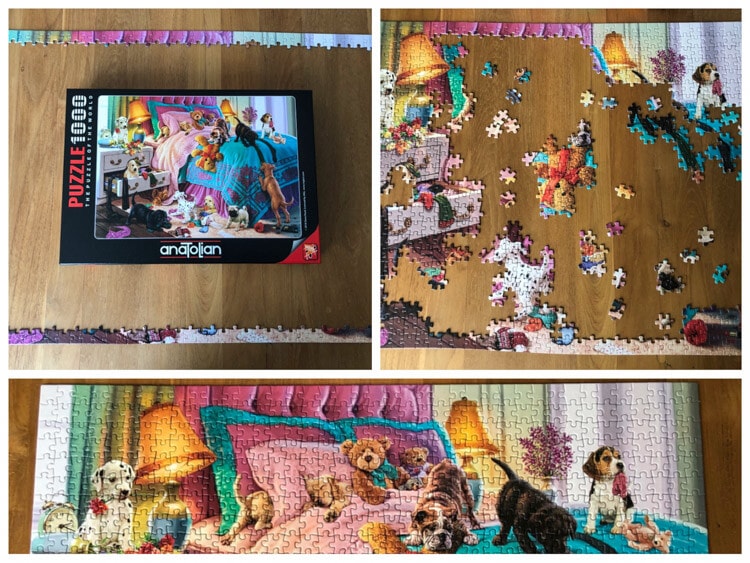 December: Stockholm by Educa
1,000 pieces
I finished the year off with a moody Stockholm image by Educa. I had to have it solved quickly so that I could make space for a nativity scene for Christmas on my table. 🙂 The puzzle cooperated nicely and I enjoyed even the grey sky.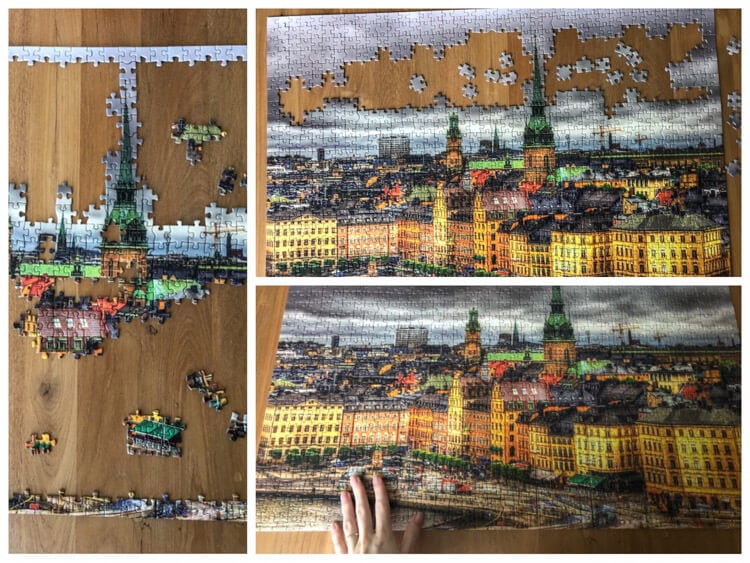 How about you? Was your 2020 also filled with puzzles? I'd love to hear about it.
Pin this post for later: