2023 marks three years since I started this modest blog and began documenting my puzzles. This is the third overview of puzzles I solved in the year.
Here are the previous years' overview posts: my puzzles solved in 2021, puzzles solved in 2020.
Well, to describe 2022… I had the goal of finishing 12k pieces in the year. See, I still keep puzzling as a hobby, and together with my time-consuming work and a highly time-consuming hobby, traveling, there are only so many hours in the day.
In total, I only did 9k puzzle pieces and I'm fine with that. 😊 I've stopped myself from getting new puzzles towards the end of the year and swapped one.
So I started puzzle swapping. While I've done it only once so far, it's a great way to keep the number of the puzzle stack at home at an acceptable size. I'm jealous of all of you with whole puzzle rooms. 😉 For me, it's just a few shelves in a closet.
Especially if you buy high-quality jigsaw puzzles, such as Ravensburger, it's easy to swap those. They can be assembled over and over without a loss in quality.
So in 2022, I swapped my Magical Deer Puzzle by Ravensburger (you can see it in my 2021 puzzles overview) for a Christmas puzzle, also by Ravensburger, and with the same number of pieces.
I got one puzzle for Christmas at the end of 2021 (jigsaws make for the best gift for us puzzlers!). As you as a fellow puzzler understand, it's a gift I desire more than others, and my loved ones are slowly embracing that. 🥰
As with my previous overview posts, whenever a particular puzzle I solved is available on Amazon, I link to it, so that you can grab it too if you fall in love.
Enough chitchat, let's dive into an overview of the eight puzzles I solved in 2022:
January: Spotters at Doncaster by Gibsons
1,000 pieces
Artist: David Noble
This beautiful illustration of a railway station platform took a while to put together but I enjoyed every minute of it.
Gibsons puzzles boast extremely sturdy pieces. The brush strokes made it challenging at times, definitely more so than a simple colorful motif.
I'm sure this puzzle would be amazing for anyone who loves trains.🚂 The time spent putting together the pieces of a big locomotive would be even more enjoyable to them.
Also, there was absolutely no puzzle dust. That's a nice bonus!
See the Gibsons puzzle on Amazon.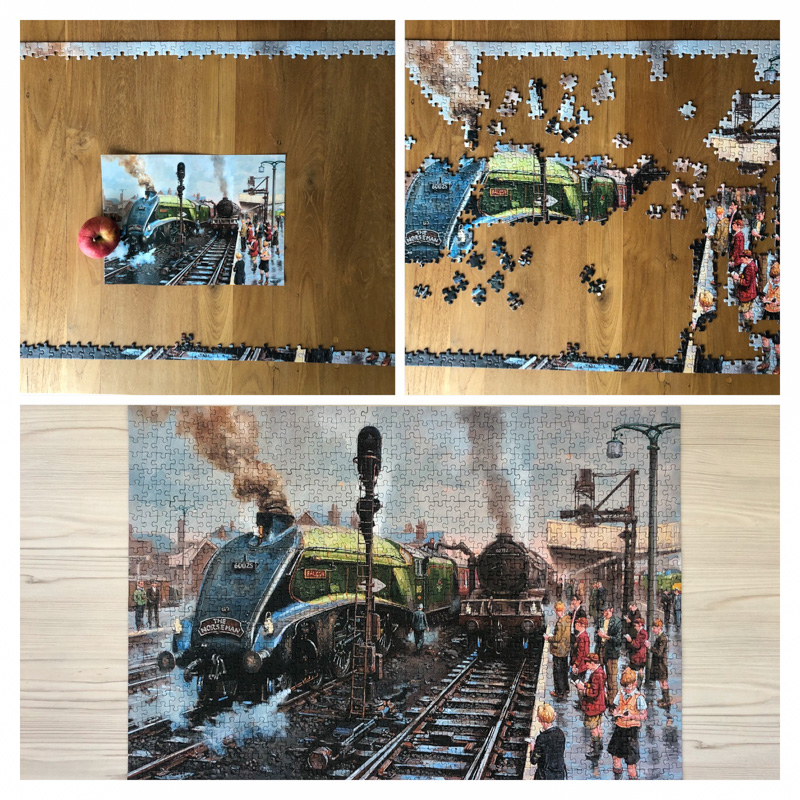 February: Antique Map by Buffalo Games
1,000 pieces
Can you keep a secret? This was my first Buffalo puzzle! The brand is quite famous and it just took me a bit longer to finally get to it.
So I was naturally surprised by the lack of a plastic bag. As it's standard with Buffalo puzzles, the pieces are simply thrown into a box, which is then meticulously glued. I guess that's better for the environment. 🤷‍♀️
Despite the tricky image of an antique map, the puzzle was only moderately difficult. Once I got my eyes accustomed to all the meridians and parallels, it was relatively easy to follow.
While the pieces are slightly thinner than e.g. Gibsons, the puzzle was still of high quality and a beautiful one too.
Check the Buffalo puzzle on Amazon.
I then proceeded to write a standalone post on map jigsaw puzzles because I fell in love!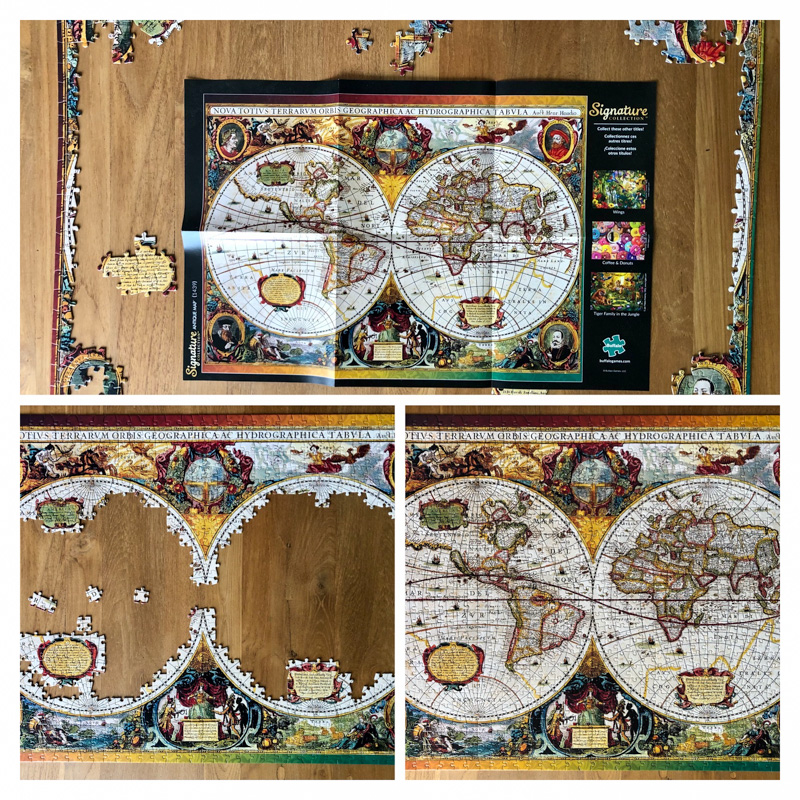 March: Gradient by Cloudberries
1,000 pieces
I'd been wanting to try my hand at a gradient puzzle and have become brave enough only last year. 😅 I wasn't sure if to sort or not, or how to go about it…
It turns out, you can treat a gradient puzzle just like any other one. So I started with the edges, of course. Next, I spread all the main colors out just like on the box. I'm usually not much of a sorter but in this case, it was necessary.
It was an absolute joy to put together! I really love the gradient motif now. Each puzzle piece is slightly different in color and you can move just by paying attention to the changing hues…
I worked on this puzzle while dealing with some personal issues and it helped tremendously. I will say it time and again – puzzles are not a waste of time! They're so, so useful for our wellbeing. 😍
The pieces of this Clouberries jigsaw interlock perfectly and the puzzle is easy to pick up. Even using only one hand.
Check the availability of the Cloudberries puzzle on Amazon.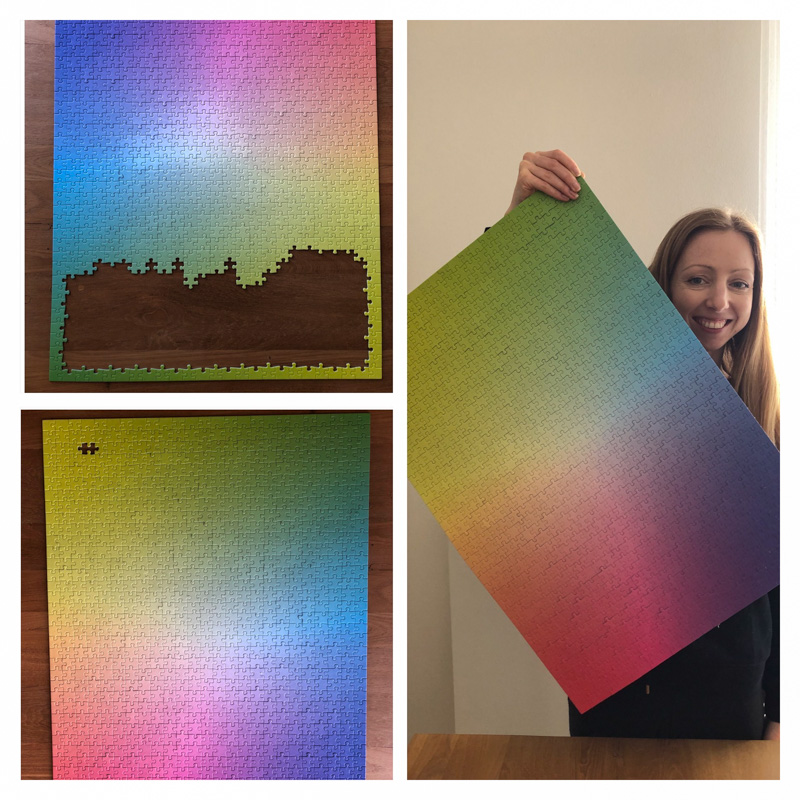 April: Brooklyn by Terrace by Art Puzzle
1,500 pieces
Artist: David Maclean
After quite a while I had a puzzle with a travel scene in my stack. Finally! I'm super passionate about travel, which is also why I don't have that much time for puzzling. 😁
Thus, a great way to dream about traveling when not traveling is via a puzzle.
It took me a few days to notice that all the puzzle pieces have the same shape! Still, the good old rule applies – if a piece is chubby, it's a horizontal one; if it's rather thin, place it vertically.
This was a 1,500 pieces jigsaw, so it took a little longer to finish.
The image is beautifully busy and there's a lot going on. You have no chance to become bored.
I usually don't sort my pieces much and this was a good puzzle for that. I simply flip all the pieces and spread them out. I use old puzzle boxes for that but you can also make use of sorting trays.
The puzzle was of great quality, and I can highly recommend it.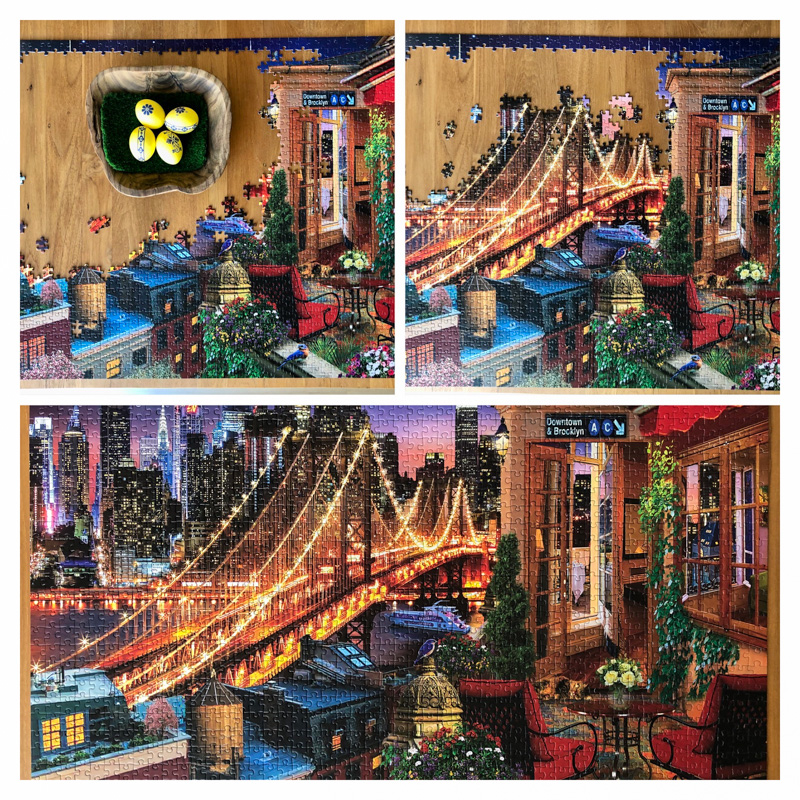 May: Arc de Triomphe, Paris by Jumbo Games
1,000 pieces
Oh, this was a fun one. Bright colors, clear division lines, a vibrant illustration, and nice, thick pieces. What more could one wish for? Actually, there was no puzzle dust!
Arc de Triomphe belongs to the main landmarks in Paris, together with the long Boulevard of Champs Elysées.
While the reality looks very different from the puzzle image, it's still fun to immerse yourself in a travel illustration.
I finished this jigsaw pretty fast – not just because of the image but also because I had a trip to go on. 😁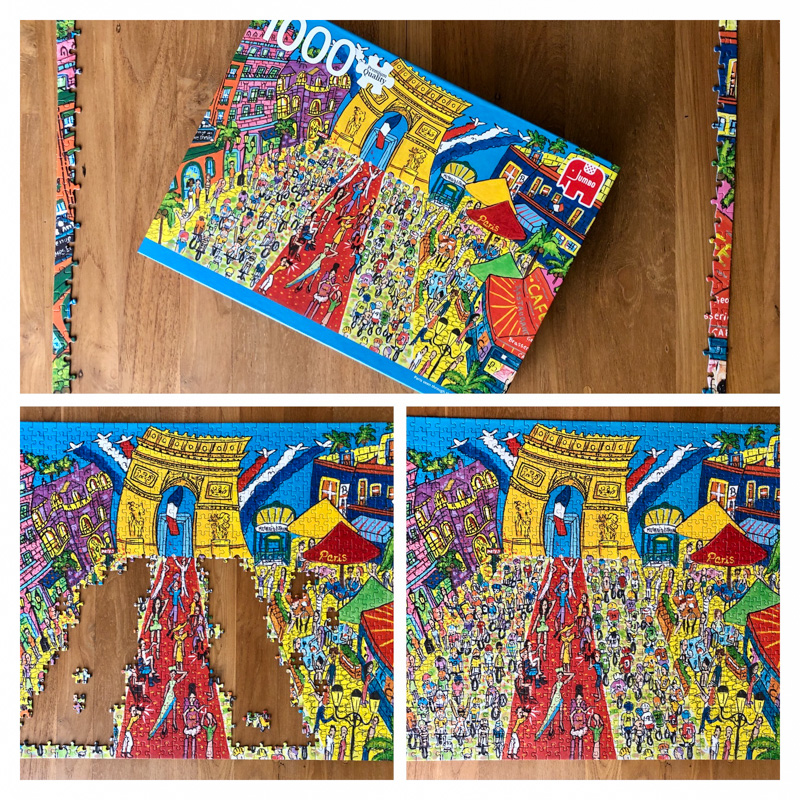 June: Flower Show: Optimism and Joy by Falcon de Luxe (Jumbo)
1,000 pieces
Artist: Anne Searle
This puzzle was the ultimate feel-good one. I mean – who wouldn't feel at peace when putting together an image of a bunch of flowers and nice elderly people?
The pieces were of high quality and fitted perfectly. That's what the Falcon de Luxe brand by Jumbo is all about.
The colors on the image were subdued but still a joy to work on. The flowers were not too easy, though!
This flower puzzle was the perfect companion for the warm days of June.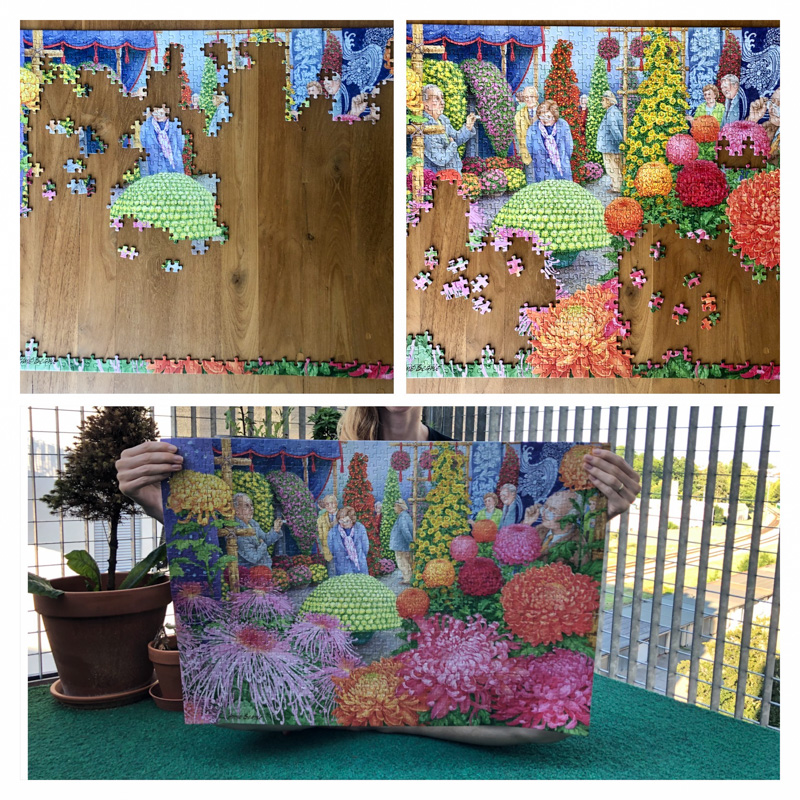 September: Origami Adventure by Ravensburger
1,500 pieces
I took my time to start another Ravensburger puzzle. It's my favorite puzzle brand and in a puzzle stack, I usually keep the Ravensburgers till the end, as a dessert. 🧁
This puzzle didn't disappoint. With 1,500 pieces, it was a slightly bigger challenge but nothing too bad. It's Ravensburger, so you can count on superior quality.
The image was so original! Just look at it – there are origami animals that come to life. I really enjoyed tackling the animals one by one and noticing the little details while puzzling.
Check the Ravensburger puzzle on Amazon.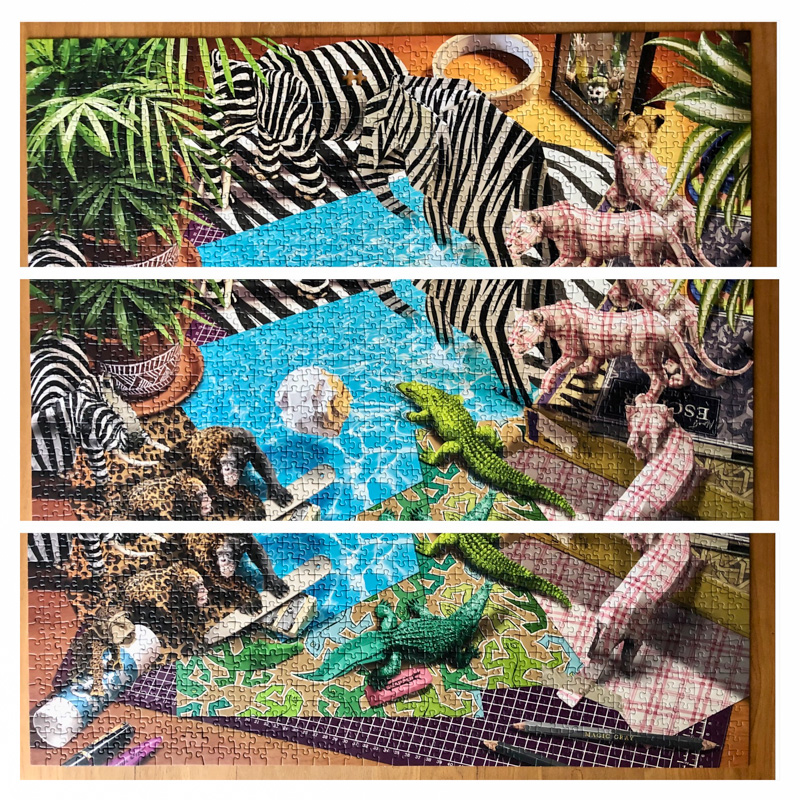 November: Christmas in the Square by Ravensburger
1,000 pieces
The end of the year brought a new experience for me – puzzle swapping. I traded another Ravensburger puzzle of mine and ended up with this lovely Christmas scene.
There's such an amount of detail on this Christmas puzzle! I started it just as winter was creeping in and it helped me to get excited about Christmas. The nostalgic image did that beautifully.
I sorted out the sky and otherwise just kept all the other puzzle pieces together, all flipped up. That's my preferred way. 😉
I finished this puzzle well before Christmas and then just kept our dining table free for the rest of the year.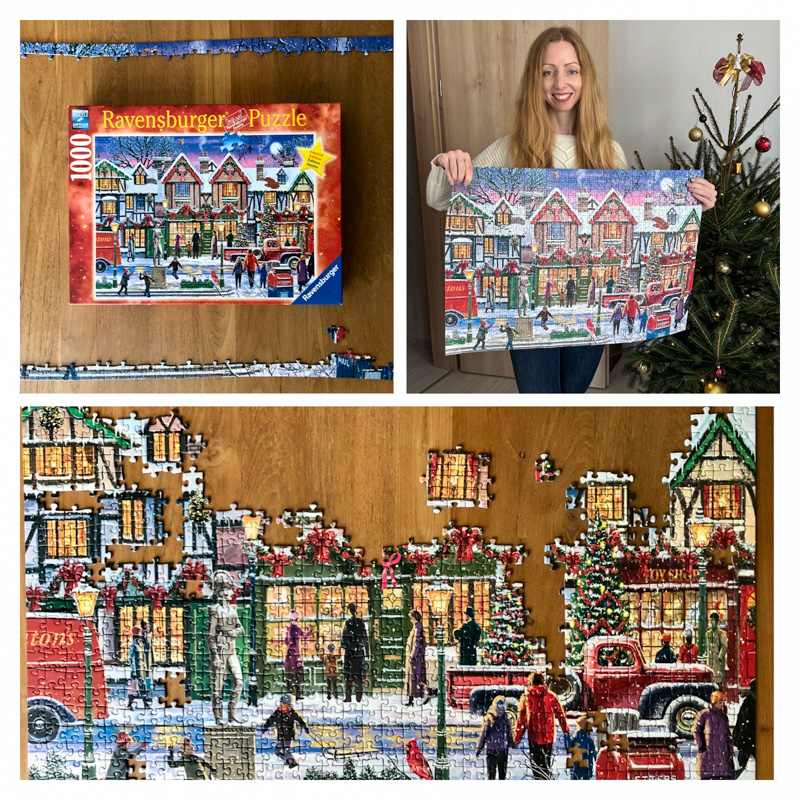 To sum up my 2022 in terms of puzzling, I did quite a bit considering my otherwise busy schedule thanks to work & travel. I'm satisfied with the puzzle choices and there wasn't a single puzzle I didn't like.
Let's see what 2023 brings.
How about your year 2022? What puzzles did you work on? And which one was your favorite?
I'll be beyond happy if you follow my journey on Instagram or Facebook. You can also sign up for a newsletter which I'll start sending once there will be a bigger audience waiting to hear from me. 😊
Pin this post: