Here we are a year later with another overview of all the puzzles I solved last year. If you like any of them so much that you'd like to get one yourself as well, I include (affiliate) Amazon links when applicable.
2021 was a year that I spent puzzling. Other than working (a lot) and traveling (also a lot more than most people), I dedicated my time to jigsaw puzzles.
I tried different brands, different types of images… And even wrote an overview of horse jigsaw puzzles. 🙂
As opposed to 2020 (you can see my puzzles of 2020 here), I started right on the first of January and continued throughout the year. I started off with quite the beast – a 3,000 pieces puzzle.
Still, though, my favorite size is 1,000 – 1,500 pieces. I quite like solving 2,000-piece ones too, but when it comes to larger piece counts – I just don't have the space for it.
Also, I'm not a big fan of puzzles with tens of thousands of pieces. They're just smaller puzzles stitched together! I don't see the fun in that. But I still admire those who take on such challenges.
If you're reading this more recently, you can also already refer to my 2022 overview of finished puzzles.
Let's dive in and flip through the puzzles I spent my 2021 with:
January: 360 World by Anatolian
3,000 pieces
This is the afore-mentioned beast. 😊 I got this puzzle from my mum as a Christmas gift. A collection of worldwide landmarks? Sign me up! No matter that it absolutely took over our dining table.
The puzzle was lovely, the pieces fit together well, even though slightly loosely. That's why I couldn't use my rolling mat and had to keep the puzzle spread out on the table. When not puzzling, I simply covered it with a table cloth and we enjoyed our meals on top of it. 😁
See this Anatolian puzzle on Amazon.
Oh, and Buffalo Games has the same image but in 2,000 pieces! See it here.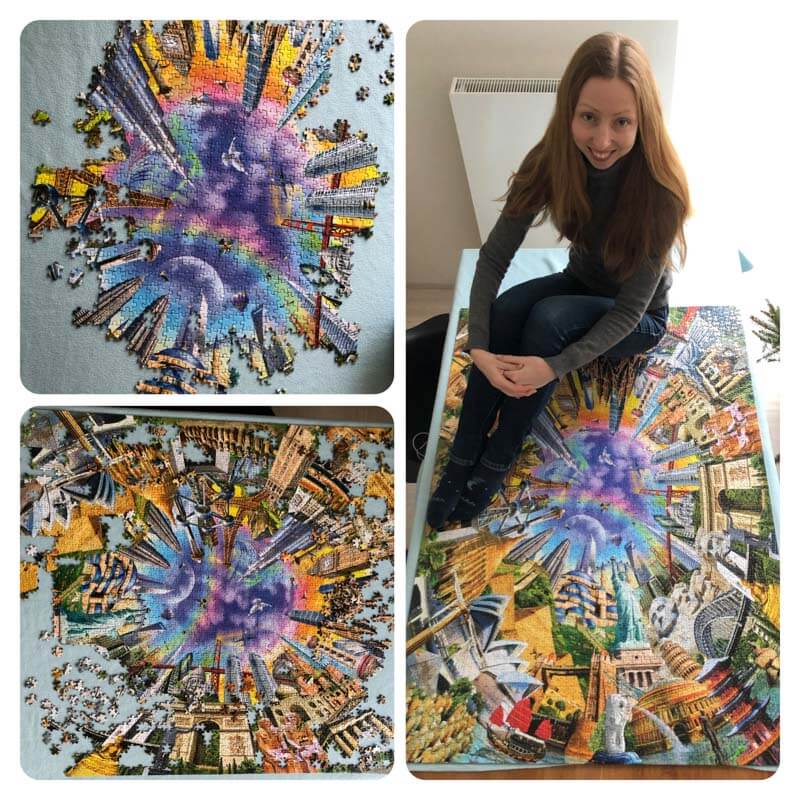 February: Blue by Cobble Hill
1,000 pieces
Next, I got a Cobble Hill puzzle for the first time. I picked the blue section from the brand's color series. High puzzle piece count enthusiasts can solve all the colors and connect the sections to create one giant puzzle. 😊
I liked the tight-fitting pieces, even their typical crazy shape. What bothered me slightly about this puzzle was how busy the image was. There were just so many things going on. For some, it can be sort of adventurous to uncover details as you go, but I didn't care for it as much.
Still, the puzzle was pleasant and definitely of high quality, with a beautiful matt finish.
Check the puzzle out on Amazon (this version even has the sample poster included).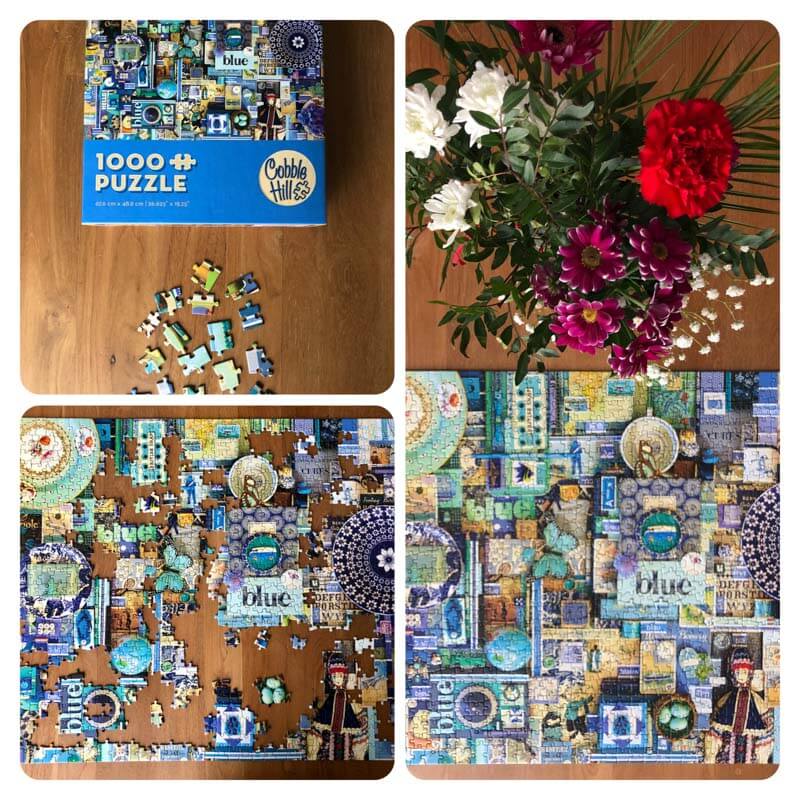 February: Love Lives Here by Galison
1,000 pieces
For the second part of the month of love, I went with a love motif (and also put together a list of the most romantic puzzles).
This was my first time with a Galison puzzle. I freaked out a bit when I noticed all the pieces were of the same shape. But it went actually quite well and turned into a pleasant experience.
The pieces could be easily differentiated into horizontal and vertical ones. The horizontal pieces were long and thin, whereas the vertical ones were chubbier.
The pieces were not as thick as e.g. from Ravensburger. But I got used to that. Also, they were not as clear-cut but still interlocked well.
See the Galison puzzle on Amazon.
March: 101 Dalmatians by Schmidt
1,000 pieces
After an amazing trip to Costa Rica, I escaped into the world of Disney puzzles with this drawing by Thomas Kinkade. 
The artist's puzzles are a big hit, even though upon closer inspection, they appear slightly blurry. Still, thanks to the incredible quality of Schmidt puzzles, I loved solving this one.
The German puzzle brand is as good as Ravensburger when it comes to the matt finish, little puzzle dust, and sturdy well-fitting pieces.
Check the Schmidt puzzle's price and availability.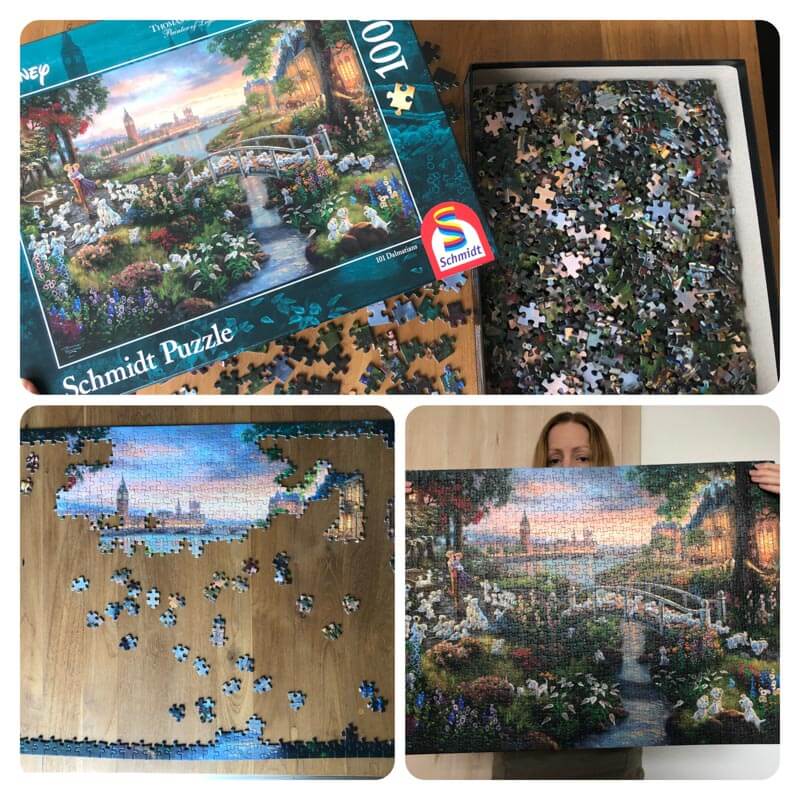 April: Safari Surprise – Wasgij puzzle by Buffalo
1,000 pieces
Did I mention I love traveling? Well, in April I went for an Easter break to Mallorca. In the capital, Palma, I ran into a puzzle store. Of course I had to check it out. And I ended up with this fun Wasgij puzzle.
The Wasgij puzzles are special, I'll write a special post on them some other time. Basically, what you see on the image on the box is not what the puzzle is.
In the case of the "Original puzzle" collection, the resulting image is a scene that's opposite to what you see on the box. So in the case of the Safari Surprise, the image you're going to get is what the tourists on the safari can see.
I can't post photos of the finished puzzle because I'd spoil the surprise for you. 😉 But I must say it was more fun than I expected.
It helps that the quality is amazing, the pieces are sturdy and well-cut, fit together beautifully…
I had an extra piece in my puzzle, something that happened for the first time! 😃
See the Wasgij puzzle on Amazon.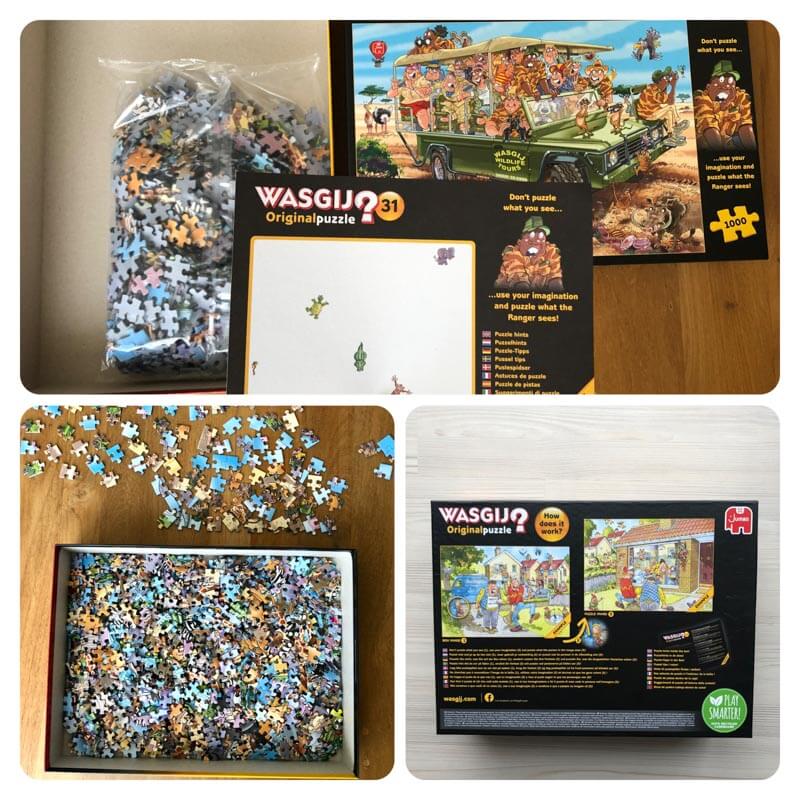 May: The Dream of Surrealism by Laurence King Publishing
1,000 pieces
I'd wanted to try an art puzzle and this was my chance. I picked this wild surrealist image by a Belgian artist.
While not made by a traditional puzzle brand but rather a publishing house, the puzzle was well made. The pieces were slightly thinner, of the same shape, and made in China – just like it was the case with the Galison love puzzle above.
The image kept me on my toes the whole time and kept luring me back even when I was supposed to be doing other things than puzzling. 😄 It's actually a mashup of different surrealist styles and artists – the back of the box details it all.
See this surrealist puzzle on Amazon.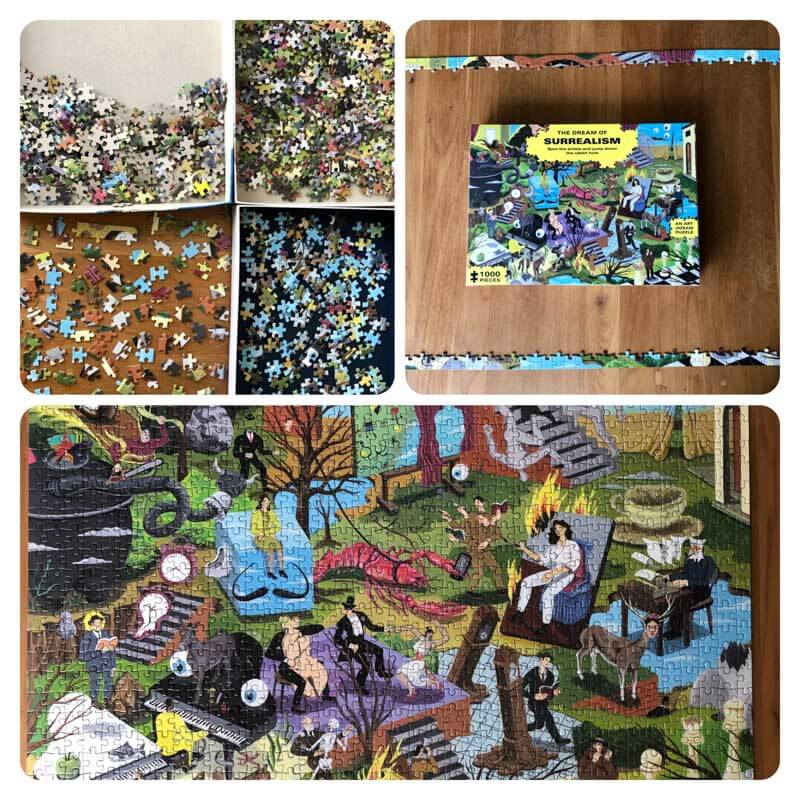 June: Timepieces by Piatnik
1,000 pieces
I had this puzzle in my pile for a few months until it was the last one left and I just had no other option than to solve it. 😁 I was really intimidated by the image.
Surprisingly, it went well and quite fast. The Austrian brand produces high-quality puzzles that are cut well and connect beautifully. Each thick piece has one particular spot.
So yes, if you expect only frustration going into a puzzle image like this one, you don't have to! If you choose a quality puzzle brand, even a mundane image like watches can be a lot of fun.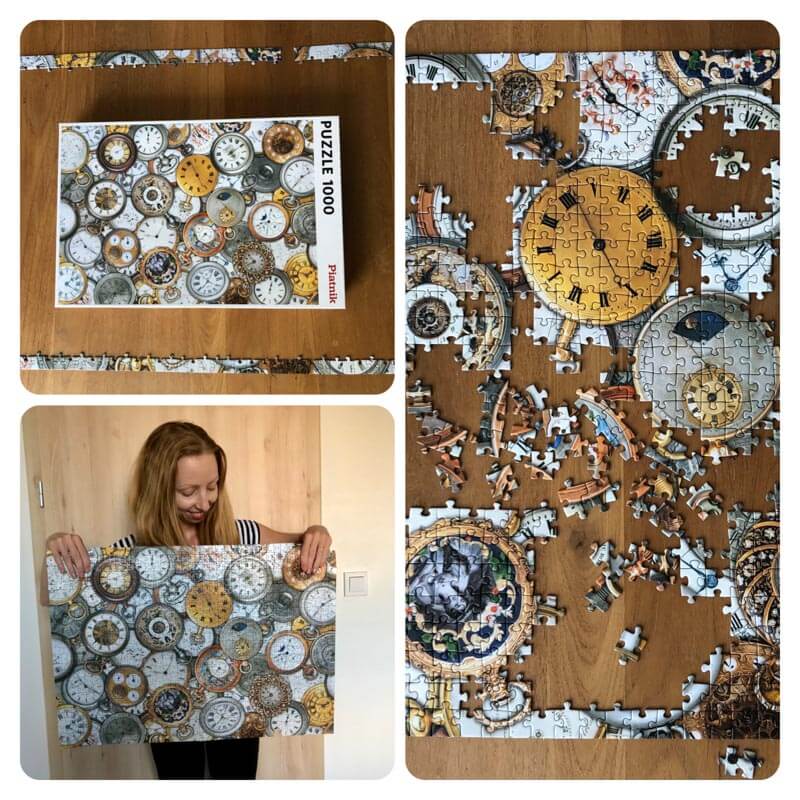 July: Your World by Mudpuppy
1,000 pieces
I spent a big part of the summer traveling and when I was at home doing puzzles, I went for one with a map motif. Crazy, I know. 😅
I liked this puzzle, even though it was quite similar to the Galison brand. Mudpuppy is an American brand, which makes its puzzles in China.
The pieces were thinner, not perfectly cut, and all of the same shape. I went with the same strategy – chubbier pieces were clearly vertical and longer thinner ones horizontal.
Had the piece quality been better, I may have hung this one. But a few bent corners made the image with the black background look a bit shabby.
Still, I enjoyed it! And later on, I wrote about all possible world map jigsaw puzzles.
See the Mudpuppy puzzle on Amazon.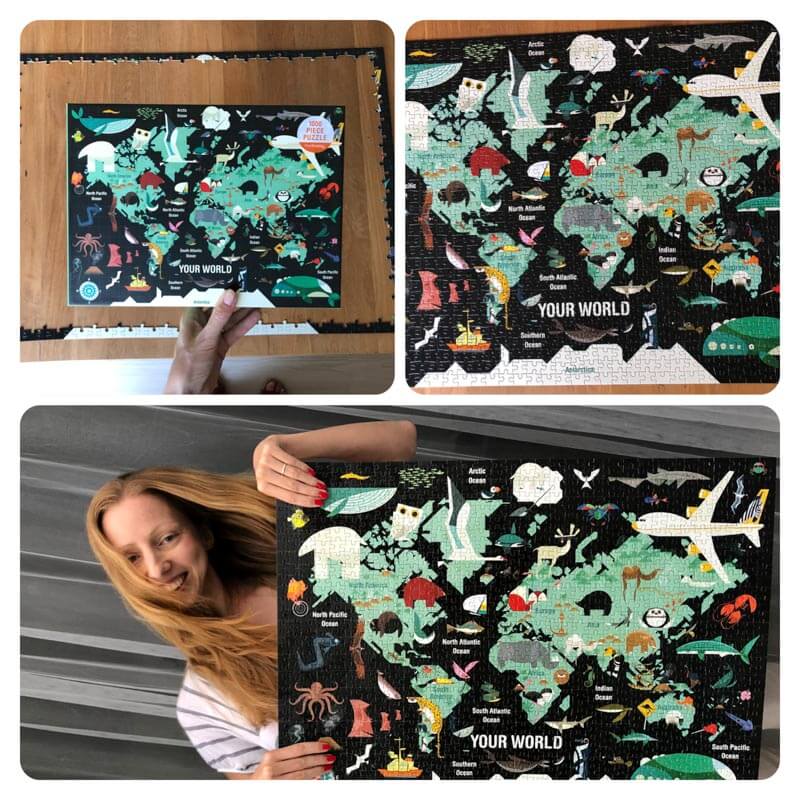 August: Scarygirl by Heye
1,000 pieces
At the end of August, I quickly pulled up this vertical puzzle I got. The motif wasn't exactly what I'd go for in the first place, but I got a good deal on it and it was a new puzzle brand for me.
I liked how it was easy to separate the pieces by color because the colors were clearly defined.
Even though I didn't have high expectations, this puzzle was lovely.
This German brand also seems to produce high-quality puzzles. The sturdy pieces interlock nicely and there's no glare. Perfect for late summer nights!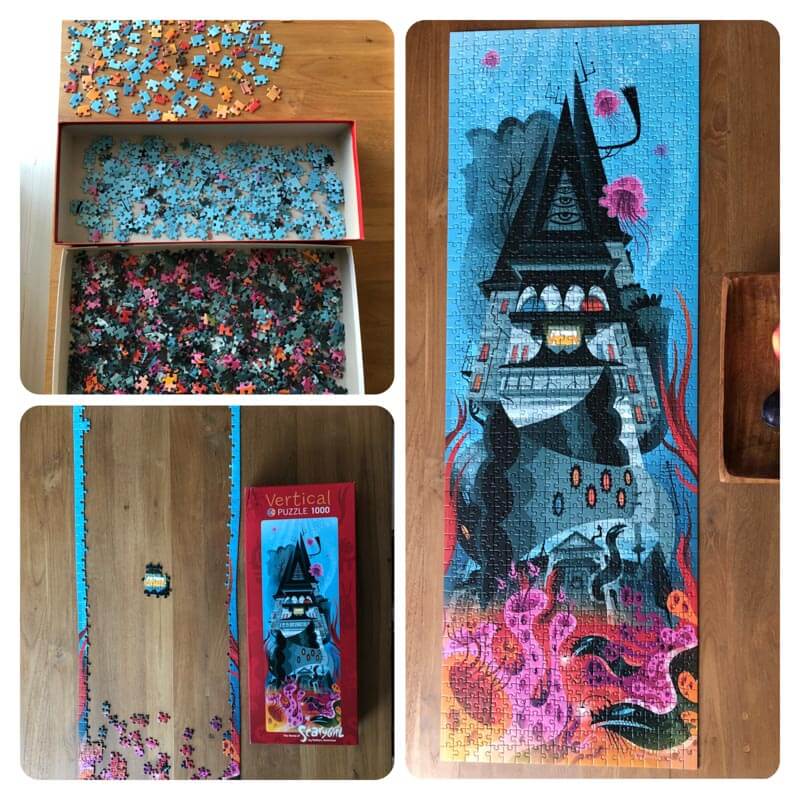 October: Magical Deer by Ravensburger
1,000 pieces
I was gone on two trips in September (one of them to Austria) and with work, I didn't even have time to puzzle. So I treated myself to a beautiful Ravensburger puzzle in October.
I knew it would be a pleasant experience since it's Ravensburger, my favorite puzzle brand. And I was not wrong.
The deer's antlers were quite a challenge, though. With all the twigs and apples intertwined in. 😁
Thanks to the nice thick and perfect-fitting pieces, it was just as joyful as I had imagined.
I even had some extra fun with the puzzle and made this little dropping video on Instagram.
See the Ravensburger puzzle on Amazon.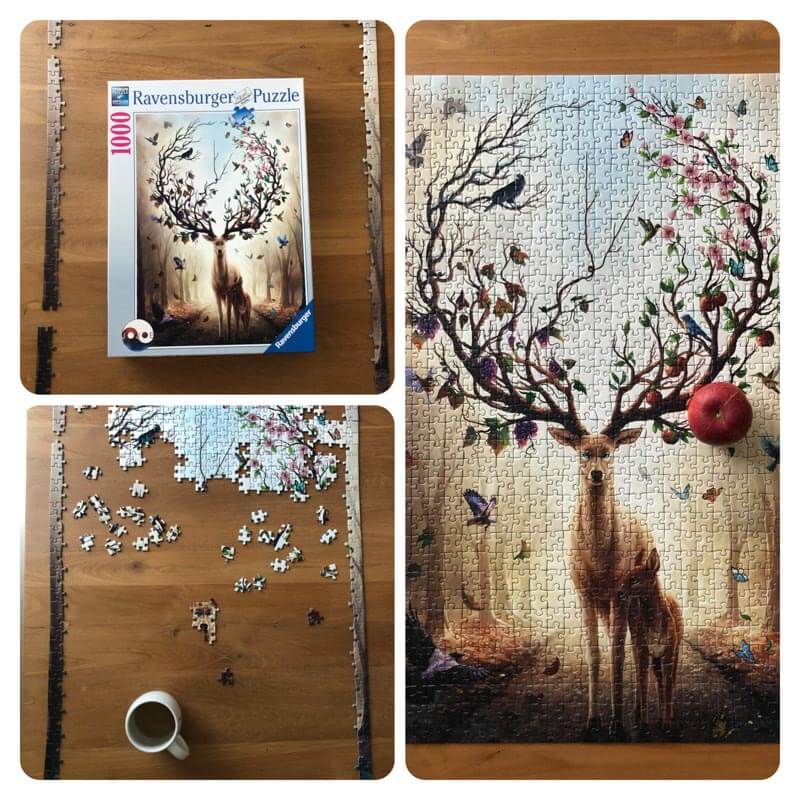 November: Bungalowville by Masterpieces
1,000 pieces
For November, I chose this cute puzzle featuring a few colorful houses. While solving it, I felt like I'm part of the small bungalow community, getting my veggies from a neighbor on the street or waving at people across from the road. 😊
My first Masterpieces experience and I'm a fan. Good quality pieces, which interlock well. They were not as tight of a fit but still stuck together nicely.
The puzzle comes in a small box and there's a poster included.
Check the Masterpieces puzzle on Amazon.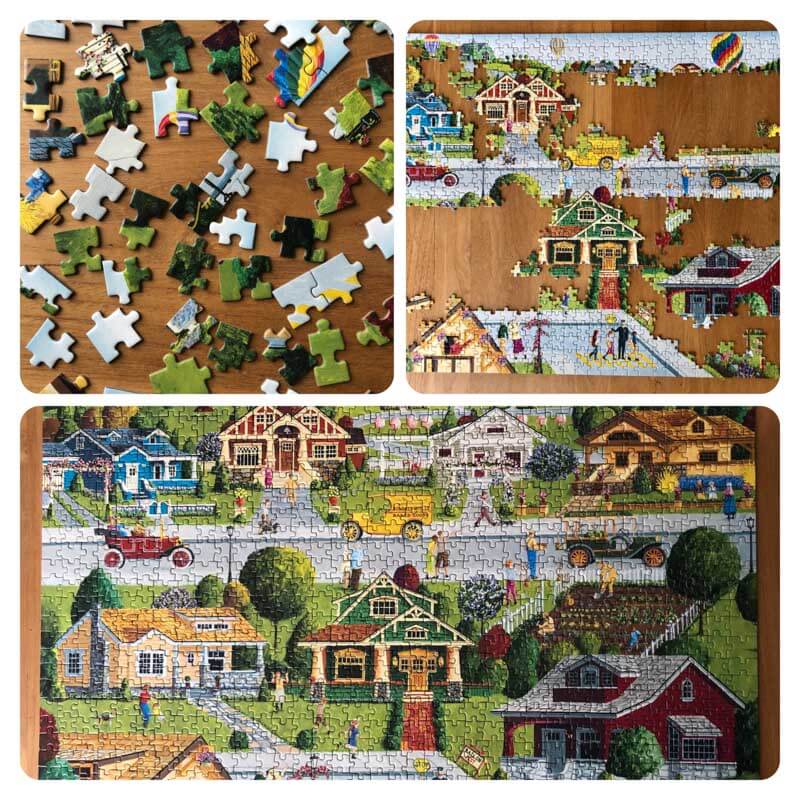 December: School of Athens by Clementoni
1,000 pieces
Finally another Clementoni! I think my last one was nearly 30 years ago. 😅 And just like I remembered it, the pieces were perfect. Together with Schmidt, Clementoni is another favorite Ravensburger lookalike of mine.
The pieces were robust like they should be, lock in beautifully… the interesting image was just another plus. To put together all the different persons of Raffaelo's artwork made me examine it better than if I just started at a painting or a picture.
Puzzles are fun, y'all!
See the Clementoni puzzle on Amazon.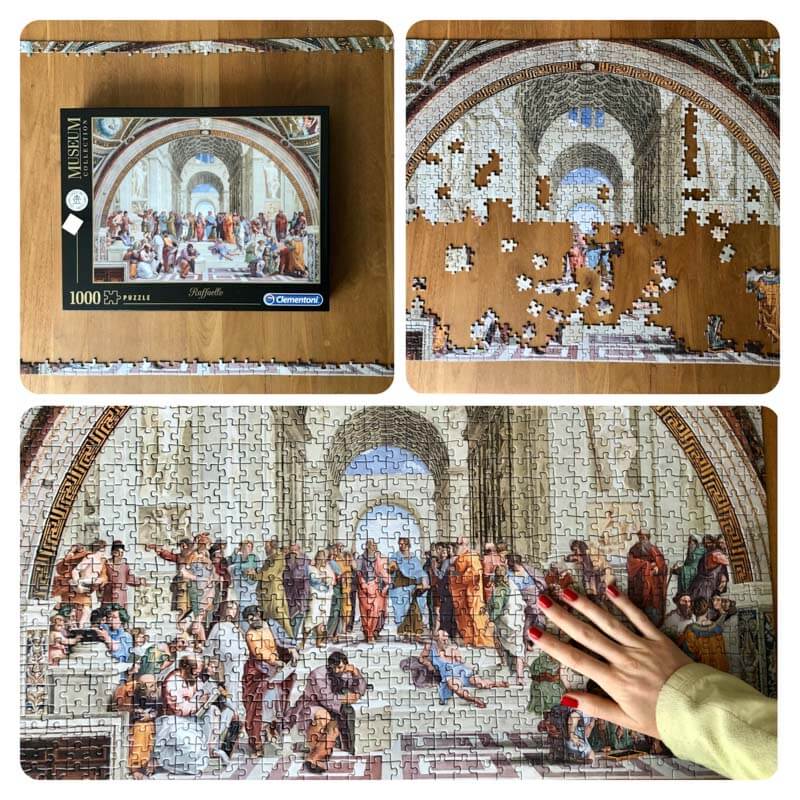 So, I finished 12 puzzles in 2021 – exactly the goal I set for myself at the end of 2020. Silly, but fun!
I expect to travel even more in 2022, and still want to keep puzzling as a leisure activity only, so my goal is to finish 12,000 pieces in 2022. Down from 14,000 pieces in 2020. Let's see how it goes.
I hope you'll share the journey with me! You can follow me on Instagram, Facebook, and you can sign up for a newsletter which I'll start sending once there are more of you. 😊
How was your 2021 in puzzles? What were your favorite puzzles of the year? Do let me know in the comments. 😊
Pin this post for later: