If you want to see a good collection of the best Disney puzzles for adults, you've come to the right place!
Whether you've been to Disney World or not, whether you watched Disney as a child or not, whatever the reason of your fandom – here you'll find some amazing Disney jigsaw puzzles for adults. 
So come on over and escape into the magical world of Disney with these eleven awe-inspiring jigsaws. From the "old-school" Mickey Mouse ones to the more recent motifs featuring the likes of Encanto and Moana, there is no shortage of Disney-themed puzzles for adults.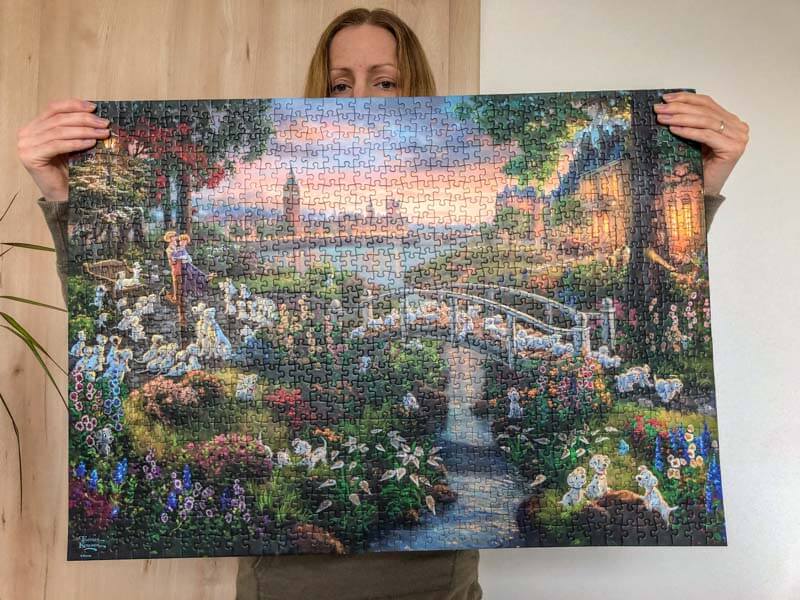 There are basically two main puzzle brands, which produce a lot more Disney jigsaws than others: Ceaco and Ravensburger. In this handpicked list of Disney puzzles for adults, you can find both Ceaco Disney puzzles as well as Ravensburger Disney jigsaw puzzles. Plus, I sneaked in two more puzzles from different brands.
We'll start with the higher number of pieces and will take it down from there.
Comparison of Top 10 Disney Jigsaw Puzzles for Adults
Refer to this handy table for a clear overview of the top Disney jigsaws. You can read about each further below.
Why Pick a Disney Jigsaw Puzzle Over Another One?
Well, apart from the fact that you're clearly a Disney fan, Disney puzzles are a great collectible, too. Depending on the brand that you pick, they may even gain value in time. Ravensburger specifically is known for its superior-quality puzzle made in Germany.
Escaping into the world of Disney with these Disney jigsaw puzzles is like meditation, except even better – you're spending time with your favorite characters.
Also, a good Disney jigsaw puzzle is a colorful one with plenty of detail, which makes puzzling incredibly fun. Just be aware if you pick one of the puzzles illustrated by the artist Thomas Kinkade, they tend to be slightly blurry. I personally don't mind that and feel the puzzle looks even more artistic but some folks may not like it.
Review of the Best Disney Puzzles for Adults by Piece Count
100th Collage by Ceaco
2,000 pieces
In 2023, it's Disney Studio's 100th anniversary! And a few special puzzles have been released this year to reflect that.
You can celebrate together with Disney with this Ceaco Disney puzzle. It's got 2,000 pieces and is thus not fit for total beginners.
Lots of detail is usually an advantage when it comes to puzzles. Here you'll be solving a collage of 43 smaller images (if I'm counting it correctly) and sorting by color certainly won't help. The artist Thomas Kinkade is behind this illustration.
The puzzle pieces are more wavy than usual but still follow the traditional ribbon cut. They don't fit as snug as some more premium puzzle brands but the quality is still great.
The packaging includes a poster.
And the finished puzzle measures 38 x 26 inches (97 x 66 cm).
Btw. Disney's exact anniversary falls on October 16. 
Magical Book of Fairytales by Ravensburger
1,500 pieces
Another Disney jigsaw that packs more characters into one image. This time, they magically emerge from a book!
There's Mowgli, there's Cinderella, Ariel, Dalmatian pups, Bambi, the Lion King, Snow White… and more than I can name. 🙂
Ravensburger produces superior quality puzzles so you can count on the pieces interlocking perfectly. You can easily pick up a finished puzzle without ruining it. The sturdy pieces are cut in the traditional style, which I personally love the most.
Once completed, the puzzle measures 31.5 x 23.62 inches (80 x 60 cm).
The Little Mermaid by Ceaco
1,000 pieces
This 1000 piece Disney puzzle from the Disney Princess collection is so beautifully colorful that solving it will be a real pleasure! It features the magical underwater world of Ariel, the Little Mermaid. Well, Ursula the villain is lurking in the corner but still…
It's my personal favorite among the Ceaco Disney puzzles listed here.
This puzzle, like all Ceaco's, is made in the USA from recycled materials. The quality is great. Again, the pieces are somewhat wavier in shape.
You can count on the finished puzzle size being 26.6 x 19 inches (68 x 48 cm).
Encanto by Ravensburger
1,000 pieces
This Disney 1000 piece puzzle by Ravensburger features the vibrant world of the Madrigal family, living their unique lives in their extraordinary home. Mirabel takes center stage, just like in the film.
This beautiful story really shines through the jigsaw. I love how colorful and bright it is. The vertical  Disney puzzle will delight not just Encanto fans but any puzzler.
Ravensburger's thick and durable pieces will assist in making solving this puzzle a real treat.
When finished, the Encanto puzzle measures 27 x 20 inches (70 x 50 cm).
Disney-Pixar: Toy Store by Ravensburger
1,000 pieces
How does a toy store featuring your favorite Disney characters sound? Amazing? I thought so. 🙂
This is one of those Ravensburger Disney jigsaw puzzles that combines all possible Disney films.
There are characters from Toy Story, of course, but also Mickey and Minnie, the cars from Cars, all princesses, Mowgli, Peter Pan, Lady and the Tramp, monsters from Monsters Inc., and so on and so forth. Whichever your favorite Disney character is, you may find it on this puzzle.
You'll see me praising Ravensburger puzzles all the time because I consider them the best. Among other things, the finish is glare-free and slightly matt. That means you can work on your puzzle easily even under artificial light at nighttime.
Please ignore the instruction that the puzzle needs a battery. It doesn't. 🙂
Once completed, the Toy Store puzzle measures the usual 27 x 20 inches (70 x 50 cm).
UP! by Disney Parks
1,000 pieces
Here's one pick from the Disney Signature Puzzle Collection, a series of puzzles created specifically to celebrate the anniversary of a particular Disney film and sold directly by Disney parks. This one celebrates the 10th anniversary of UP!
And hear this: this puzzle is two-sided! (It's not the case with all Disney Signature puzzles.)
So in this case, you can put together an image of young Ellie and Carl, and then again of them as an elderly couple. How adorable!
Darren Wilson is the artist behind this lovely artwork.
As for Disney Parks puzzles, they are reviewed as high-quality. I don't have any experience with this brand yet, so if you do, please let me know in the comments!
The finished puzzle is 27 x 20 inches (69 x 51 cm).
Thomas Kinkade: 101 Dalmatians by Schmidt
1,000 pieces
Another one of the 1000 piece Disney puzzles, this one is not made by Ceaco or Ravensburger. I did this exact puzzle (you can see it in my review of puzzles in 2021) and enjoyed it very much.
The puzzle pictures about 20 Dalmatian pups and a lovely garden full of flowers. Thomas Kinkade, a.k.a. the Painter of Light, is behind this beautiful illustration. It's common with his drawings that they're slightly blurry – I guess it's because he paints with a brush.
It's not a problem, though, especially not in this puzzle. There's still enough detail to keep it fun. A painted sky is also way easier to solve than a block of photographed sky!
Schmidt puzzles may not be as widespread as Ravensburger's but for me they match the quality. Perhaps because they're both made in Germany – I dunno!
With this Disney jigsaw, you can look forward to an awesome puzzling experience – both when it comes to connecting the individual pieces and enjoyment from the image.
If you especially love this motif, Ceaco has the exact same one in a 750 pcs version.
The completed puzzle measures 27 x 19 inches (69 x 49 cm).
Thomas Kinkade Moana by Ceaco
1,000 pieces
Another one of the newer jigsaws, this Ceaco Disney 1000 puzzle was released only in 2023 and carries the motive of Moana, a movie made by Disney in 2016. I've just learned Moana is called Vaiana or Oceania in some countries.
Anyhoo.. This beautiful puzzle depicts Moana and Maui arriving on their little boat to an otherworldly island under the watch of the Goddess of Nature Te Fiti.
It's a beautiful vivid puzzle illustrated by Thomas Kinkade. Again, because of the brush strokes, there's some blur at the lines sometimes, but the motif is bright enough for it not to be a problem. I find this scene so pretty and the lush landscape of Polynesian islands must be a joy to solve as a puzzle.
Ceaco belongs among the more affordable puzzle brands. They manufacture their puzzles in the USA.
A poster comes included.
The finished puzzle is 26.6 x 19 (68 x 48 cm) in size.
Thomas Kinkade Alice in Wonderland by Ceaco
750 pieces
For a more traditional Disney immersion, let's head to the magical world of Alice. The artist Thomas Kinkade captured beautifully the "normal" world Alice is in and the mysterious, magical one that awaits down under.
This Ceaco Disney puzzle has 750 pieces and plenty of colorful detail so it'll be a breeze to solve for anybody.
The USA-made Ceaco puzzles are of good quality and are usually quite affordable. 
Please note this puzzle doesn't include a poster, so you have to reference just the image on the box, which is not the full picture. If you have trouble with that, you can find the full image online, though.
Once finished, the puzzle measures 24 x 18 inches (61 x 46 cm). 
Moving on, let's zoom in on two Disney 500 piece jigsaw puzzles:
Frozen by Ravensburger
500 pieces
Who wouldn't know and love Frozen, right?! This beautiful puzzle depicts Elsa and her sister. You immediately know which is which even if you haven't watched the film.
What's more, this puzzle glows in the dark! So if you end up framing it, it can serve as a nighttime decoration piece, too.
I think it's one of the prettiest Disney princess puzzles for adults. It has only 500 pieces so you can easily puzzle with children. Officially, this size of puzzles is good for kids over the age of ten.
Ravensburger quality shows on this puzzle too so you can look forward to a great grip and high-quality pieces, which connect together super well.
The puzzle measures 19 x 14 inches (49 x 36 cm) when complete.
Beauty and the Beast by Dowdle
500 pieces
One of the most romantic stories, Beauty and the Beast invites you to spend quality time puzzling while contemplating on true love.
Actually, if you're romantically inclined, you can check out my post on romantic jigsaw puzzles.
This Disney puzzle too is colorful and with plenty of detail.
You can see from the first look on the box that this is a premium puzzle. The sturdy box even features an image insert and a resealable zip-lock bag for the puzzle pieces. It can be a collector's piece. The puzzle pieces are thick and durable so you can solve the puzzle over and over, or pass it along, without a major loss in quality.
The pieces become funky in places but still mostly stick to the traditional ribbon layout.
Dowdle is a small puzzle brand manufacturing their high-quality puzzles in the United States.
The finished puzzle measures 16 x 20 inches (41 x 51 cm).
Ok, I hope you've gained enough inspiration from these best Disney puzzles and found at least one that will tickle your fancy. Do let me know in the comments!