If you're a fan of the elegant creatures that horses are and a puzzle fan at the same time, chances are you'll sooner or later seek some horse jigsaw puzzles to solve.
Whether you'll want to do just one or buy several, I've put together an overview of the best jigsaw puzzles of horses that can be currently found.
I adore horses too, even though I rode one only a couple of times in my life. Watching horses, be it wild ones or domesticated ones, is just one of the most soothing experiences. Almost like looking into a fireplace. 😊
Bear in mind that horses jigsaw puzzles are usually not the easiest! Horses are not the most colorful animals, after all.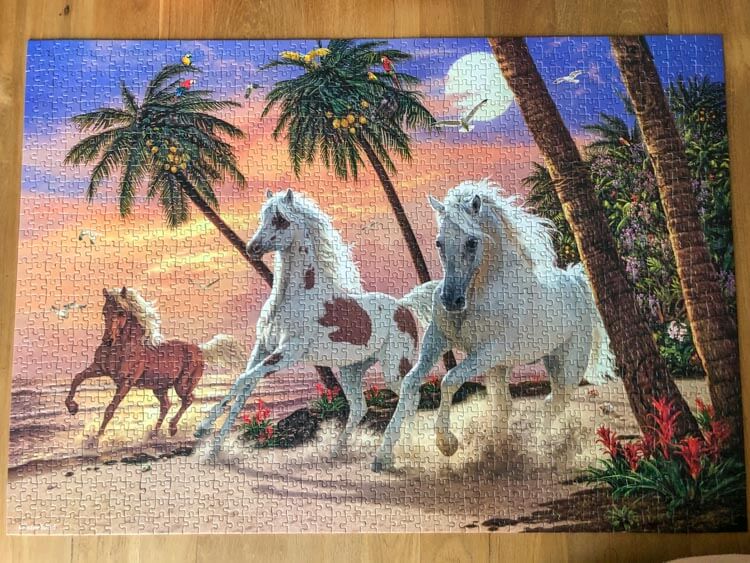 If you don't enjoy a good puzzle challenge, seek out colorful horse jigsaws with a few horses and rich background. Illustrated puzzles win over photographs too, especially when it comes to images of horses.
As you already know, I'm a big fan of Ravensburger, so a Ravensburger horse puzzle cannot be missing. For those of you in love with racing, I picked a few horse racing jigsaw puzzles too.
Why Pick a Horse Puzzle Over Other Images?
Let's be honest. A horse lover doesn't have it easy. To keep a horse, or go to the stables often enough, is a financially demanding activity.
Fortunately, since we all here love puzzles, even the horse fans can be transported to the world of horses by solving their favorite horse picture puzzle.
Sure, it's not like riding a horse, but it will scratch that itch at least a little bit.
Anyone who loves animals will enjoy jigsaw puzzles with horses. Plus, if you glue your solved puzzle, you'll have a perfect decoration reminding you of your favorite animal.
If your love of animals extends to dogs too, refer to my post on jigsaw puzzles of dogs.
Comparison of 10 Best Horse Puzzles
Let's see all these pretty horse jigsaw puzzles in a table so that you can compare easily and go for one that speaks to you the most. Read more about each horse puzzle further down below.
What to Consider When Choosing the Perfect Horse Jigsaw
Just like with any other puzzle, it comes down to the following aspects:
Image: we are visual creatures and a puzzle with a subpar image just won't do it, especially when it comes to horses! If you really understand horses, you might want to go with your favorite breed.
Number of pieces: if you're starting out, go with a puzzle of a few hundred pieces only.
Brand: choose a reputable puzzle brand and you won't have to deal with missing pieces or bad quality. I advise you about that below, of course!
Price: to find the right price-to-quality ratio is like hitting the jackpot. The best puzzle brands (e.g. Ravensburger) are often the most expensive ones. You can often sell them used, though. Also, generally speaking, the higher the puzzle piece count the higher the price.
Detailed Overview of Top 10 Horse Jigsaw Puzzles
Let's start with a horse jigsaw of the lowest puzzle count and work our way up gradually. If you enjoy horse puzzles of 500 pieces and more, scroll down. 😊
Horses on the Field by Ravensburger (100 pieces)
Ok, we're starting small. This horse puzzle of 100 pieces (XXL size) is the best fit for children over six or the elderly. The bigger pieces fit perfectly in the hand and finishing this puzzle doesn't feel like an impossible challenge.
Since it's a Ravensburger horse puzzle, you can count on the quality – this German brand is detail-oriented. The bright colors make solving this puzzle a breeze and the matt finish makes for a good evening activity too.
Get this puzzle for any horse lover, young or old, or perhaps even just for a total beginner. Anyone can put these pieces together and have a lot of fun doing so.
This is the only 100 piece horse puzzle on the list since we're going to gradully increase the puzzle count.
Once finished, the puzzle measures 20 x 14 inches (49 x 36 cm).
Icelandic Waterfall by Buffalo Games (300 pieces)
Ok, this may not be a pure horse jigsaw per se, but it does feature a few horses – and a stunning waterfall in Iceland. Seljalandsfoss Waterfall, to be exact.
This extremely well-rated puzzle also has larger pieces – the brand claims they're 67% larger. Thanks to the colorful picture (from the "Photography" series), the puzzle is easy and relaxing, even for newbies.
You get a poster with this jigsaw, so not only will solving be easy, but you can even invite a buddy to join in.
Buffalo Games is a traditional American brand. All their puzzles are proudly produced in the USA.
Once finished, the puzzle has a square shape – 18 x 18 inches (46 x 46 cm).
Rushing River Horses by Ravensburger (300 pieces)
Another one of Ravensburger horse puzzles, because this brand is just the best. Also, this is the most budget-friendly puzzle of this whole list, which is unique in the case of Ravensburger.
The pieces are larger than a standard Ravensburger puzzle, but not the XXL size. Still, the puzzle is relatively easy and the brand claims it takes 2 – 3 hours to complete.
Uniquely, a poster is included in the puzzle box. The glare-free finish and the standard amazing interlocking ability of the pieces make this puzzle one of the best you can get.
Because of the low puzzle piece count, this particular puzzle, too, is handy for children and the elderly.
The finished puzzle measures 19.5 x 14.25 inches (50 x 36 cm).
Summer Creek by Springbok (500 pieces)
If you're looking for horse puzzles 500 pieces, this is the one to get. You can't go wrong with Springbok. Unless you only enjoy the standard ribbon-style cut.
These pieces are cut randomly, meaning nearly now two pieces are alike. Puzzlers usually like such a challenge.
The pieces are sturdy, fully from recycled material, and printed with nontoxic soy-based ink. Springbok proudly makes their puzzles in the USA and belongs to the traditional brands.
I don't know what it's about a herd of horses galloping through a river stream – it seems to be quite a popular motif! In this case, the colors are muted, which makes the puzzling slightly more challenging. The best is to solve this puzzle in daylight. Also because the finish is glossy.
The completed puzzle is 23.5 x 18 inches (60 x 46 cm).
I AM Horse Puzzle by Madd Capp (550 pieces)
Horse shaped jigsaw puzzles are rare. Usually, they're made of wood. When it comes to standard cardboard puzzles, this is the only decent one I could find.
This 500 piece horse puzzle (actually 50 pieces more) depicts a horse's head. It has many raving reviews and thus you can rest assured you're buying quality.
The pieces are cut in the traditional ribbon style. Still, this horse shaped puzzle is not easy since the colors don't differ too much. Also, the glossy finish makes it harder to solve under artificial light.
Because of the unique shape, the standard puzzling method – putting edge pieces together first – doesn't apply. One needs to work their way out from the inside.
The puzzle is made in the USA by an established manufacturer of games and puzzles. In fact, they specialize in animal-shaped puzzles. You can call this puzzle educational – it includes an insert with some fun horse facts.
Once finished, the puzzle's dimensions are 24 x 32 inches (61 x 81 cm).
Racing to the Finish by Jumbo Toys (1,000 pieces)
We're getting to my favorite puzzle piece count! Horse racing jigsaw puzzles are not a standard – most puzzle images feature horses running wild and free or happily munching on grass at a farm.
So if you like to spend a day at the races, this is one of a few horse racing jigsaws that you can enjoy solving.
The artist Steve Crisp is behind this colorful artwork of Cheltenham Racecourse in the United Kingdom.
It features 10 jockeys riding their horses past an excited crowd. The level of detail in this horse racing puzzle is extraordinary and it will be a delight to solve.
Jumbo Toys is a traditional brand based in the Netherlands. The quality of their puzzles is high and you can count on sturdy pieces, which interlock well.
This particular puzzle belongs to the Falcon de Luxe line, which means nostalgic illustrations in piece counts of 500 to 1,000.
The finished puzzle measures 27 x 20 inches (68 x 49 cm).
Winter Trio by Cobble Hill (1,000 pieces)
If you like randomly cut pieces, Cobble Hill is the brand to go to. The funky shapes make puzzling even more of a challenge!
I think this is one of the cutest 1000 piece horse jigsaw puzzles. Are you with me on this one?
Cobble Hill makes their puzzles in the United States, from recycled cardboard and using vegetable-based ink. The thick pieces have a snug fit and reduced glare.
A sample poster is included to make things easier for you. You'll surely need it since the image itself is quite hard. The three beautiful horses will be easy to put together, but look at all the white magic around!
Still, though, once you're done with the beautiful horses in the winter scene, you'll feel utmost accomplished. 😊
You'll have a puzzle of 27 x 19 inches (68 x 49 cm) on your hands once finished.
Horses by the Stream by Castorland (1,000)
I had a horse puzzle by Castorland myself and enjoyed it tremendously. Mine featured three horses running on a beach, but it's no longer available. Instead, you can enjoy this adorable horse family by the stream. 😊
It's a new puzzle design, so there are no reviews yet, but you can count on quality with Castorland. They're a trusted puzzle brand producing their puzzles in Europe.
The finish is glossy, so not ideal if you mostly puzzle at night. The pieces are durable and interlock well.
The finished puzzle measures 27 x 19 inches (68 x 47 cm).
The Horse by Clementoni (1,500 pieces)
This is the only puzzle on this list, which features only one beautiful horse, but to the smallest detail. Even though it's an illustration, it looks real!
This vertical horse jigsaw was made in Italy. Clementoni belongs to the best puzzle brands in Europe and I like to compare it to Ravensburger – that's how high the quality is!
You'll enjoy sturdy pieces that click together perfectly. And of course, the puzzle can be picked up.
This puzzle is challenging, but it'll be a piece of cake for an experienced puzzler.
Once finished, the puzzle measures 23 x 33 inches (59 x 84 cm).
Galloping Herd of Horses by Trefl (2,000 pieces)
Do you love horses and horse puzzles for adults with many pieces? It all comes together in this horse puzzle by Trefl.
Beautiful galloping horses, dust flying around, perfect blue sky… An image like that and so colorful at the same time! The artist behind it, Bonnie Marris, is a real master.
The puzzle features a non-reflective layer. I've done a few Trefl puzzles and they were mostly glossy, so hopefully, that's not the case with this one.
The pieces are of high quality. In my experience, a piece may fit into more than one spot, but with time you can tell. 😊 I once solved a 3,000-piece puzzle by Trefl and survived to tell the tale. 😉
Trefl puzzles are made in Poland and it's a Polish puzzle brand.
The completed puzzle measures 38 x 27 inches (96 x 68 cm).
So, which one of these horse jigsaw puzzles do you like the most? Do you plan on getting one for yourself or someone you love? Let me know in the comments. 😊
Pin this post for later: