Beautiful landscape puzzles for adults are my absolute favorite jigsaws to solve! It may be related to my love of all things travel. If you feel the same, read on.
You already know that jigsaw puzzles are not a waste of time. You found your love of puzzling, and now you're just looking for the next exciting jigsaw puzzle to solve, this time of a stunning nature scene. Well, you came to the right place!
One thing to note – these landscape jigsaw puzzles for adults  are not intended for children under 12 because of small pieces.
Why Choose Landscape Puzzles Over Other Puzzle Images?
A beautiful landscape jigsaw puzzle with realistic colors has the ability to transport you to places near and far.
Perhaps you even visited a spot, hiked in Italy, got lost in the mountains of Switzerland.. and now you want to revisit your favorite memory. Landscape and travel jigsaw puzzles for adults can do that.
Btw. in this post we don't cover beach puzzles.
The Best Landscape Jigsaw Puzzle
If you don't have time to go over all the different variations of amazing scenic jigsaws that I list below, here's my pick which ticks off all the best attributes:
You can read more about this jigsaw in the review section below.
What to Consider When Buying a Landscape Jigsaw Puzzle
Fortunately, there's no shortage of scenic puzzles for adults, whether you prefer shopping on Amazon or elsewhere. When choosing the best one for you, you should consider the following attributes:
Image itself
It goes without saying, but you should like the image. It helps in moments when the going gets tough. 🙂 Watching beautiful scenery come together as you place each puzzle piece is just the best feeling.
But other than that, when buying scenic jigsaw puzzles for adults, look at the different colors, at the sky ratio, at all the different elements within the puzzle.
Sure, some green landscapes with perfect blue sky do look amazing on a photo, but if there's nothing else than just a sea of green and sea of blue, such a scenery puzzle is going to be very hard to solve.
Landscape jigsaws tend to not have too much detail, that's just their nature.
If you stick to my puzzle strategy tips, though, you'll be fine. I promise!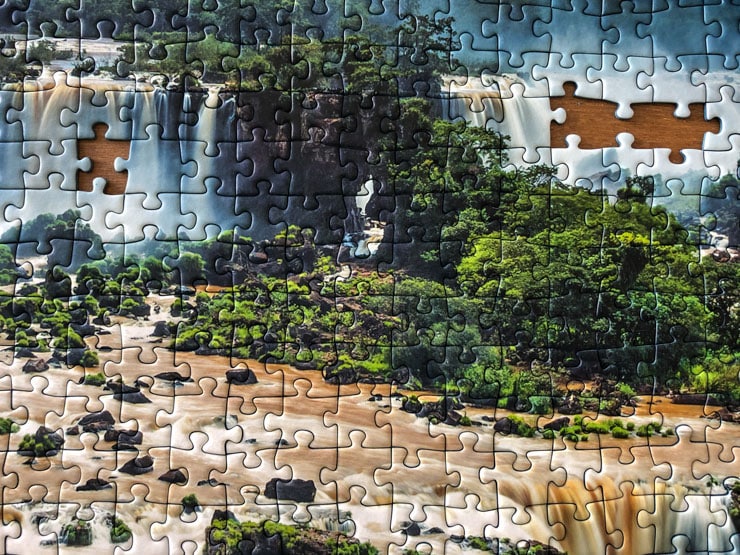 Number of pieces
This will depend especially on your proficiency, on how easy or difficult you want the project to be, on whether you have plenty of time…
Generally speaking, if you're a puzzling newbie, go for the lower count, such as 500 pieces. Work your way up to higher pieces count, if you enjoy the process. For me, the sweet spot is somewhere between 1,500 and 2,000 pieces.
You need to find your own preference for the puzzle pieces count so that the puzzle is not too boring for you, but at the same time, it doesn't feel like an impossible challenge.
Realize that large puzzle piece counts are going to result in large sections of the image. I recently made that mistake with one of my new beautiful nature puzzles. I bought a 3,000 pcs jigsaw puzzle, where the sky didn't look like too big of an area, but once I realized how large the whole image was, the difficult sky turned out to have 500 pieces!
Lesson learned: the higher the piece count, the more variable the image should be in terms of color and patterns.
Also – maybe don't pick up nature scene puzzles to start with. If you're only at the beginning of your puzzling journey, the more detail the better.
Brand
Choose an established, quality brand over an unknown producer with no ratings. You'll thank me later.
While I plan to cover jigsaw puzzle brands in another article, the quality of a puzzle is paramount to the ease of assembling it. Different, easy-to-fit shapes will prevent many headaches. I'm now working on a puzzle where a piece can fit into various spots and it's making it very difficult to put together the sky!
What's more, some brands may not have perfected their technique and the top layer of the pieces may come off.
The most high-quality brands I have most experience with are Ravensburger landscape puzzles and Clementoni. Eurographics also has some good reviews online. All the best nature puzzles for adults listed below are from a good brand and with great reviews.
Price
This ties in with the quality of a puzzle and its manufacturer. Ravensburger, the best puzzle brand in my opinion, sells the most expensive scenery jigsaw puzzles. But since they're of such high quality, you can assemble them over and over without visible wear and tear of the pieces.
These types of puzzles can be often easily bought second-hand.
Comparison of 10 Best Scenic Puzzles
Overview of the Best Scenic Jigsaw Puzzles
Let's check each of these amazing landscape puzzles a little more closely:
Mountains by Ravensburger (500 pieces)
This 500-piece jigsaw puzzle by Ravenbsburger belongs to the most beautiful mountain scene puzzles I've come across. A stunning mountain lake reflects the snow-capped mountains painting a wonderful nature scene. The location? Saint Mary Lake in Glacier National Park, Montana.
Due to the lower piece count, this puzzle is ideal for beginners or for anyone who wants to assemble their puzzle fast.
Germany-based Ravensburger belongs to one of the best puzzle brands, so you're in for a pleasant puzzle experience. Every piece is unique and the soft-click technology makes the pieces fit snug.
The cardboard puzzle has an anti-glare finish, making it easy to work on in different light conditions.
With such beautiful scenery, this jigsaw puzzle can easily go up on the wall! If you choose not to do so, you can solve this puzzle over and over again, since the pieces are durable.
The completed puzzle measures 27x 20 inches (70 x 50 cm).
Click to see the current price of the Mountain Scene Puzzle
Bear Reflections by Buffalo Games (500 pieces)
If this beautiful landscape jigsaw puzzle didn't have a bear in the name, you almost wouldn't notice it!
This incredible image is a photograph by Molly McCormick and shows a lone bear walking along a lake, with his own reflection keeping him company.
When considering puzzles of nature, this would normally be a rather difficult puzzle to solve. But, since it has just 500 pieces, it's going to be quite easy!
Buffalo Games is a traditional toy brand producing high-quality puzzles. The pieces layout follows the standard ribbon cut, the pieces are sturdy and have even a trademarked "Perfect snap" technology. So you can be sure the puzzle can be lifted up once completed.
This is one of the prettiest nature scene jigsaw puzzles and definitely another to frame!
The finished puzzle size is 21.25 x 15 inches (54 x 38 cm).
The above two definitely belong to the most amazing nature puzzles I've found.
Home in the Mountains by Anatolian (500 pieces)
If you love country scene jigsaw puzzles, this is the one to go for. This painting of a cute cabin in the mountains is made up of 500 pieces. The only tricky part is the sky, which makes up only a minor portion of the image.
Puzzles by Anatolian are made in Turkey and belong to one of the cheapest on the market. The quality is still great and they offer a few unique features.
Each puzzle contains a stand for the box, so that you can have the image right in front of your eyes easily.
What's more, Anatolian offers a free worldwide missing piece support, so if your cat eats a puzzle piece, you can have it replaced by the company. I'm not sure how well the service works, but it's surely a nice touch.
The size of the finished puzzle is 19 x 13 inches (48 x 33 cm).
Click to see the current pricing of the Mountain Home Puzzle
Continuing with 1000 piece landscape puzzles:
Rolling Hills in Tuscany by Clementoni (1,000 pieces)
Tuscany is one of Italy's most famous regions thanks to the charming rolling hills stretching as far as the eye can see. I was so happy to see a puzzle made of the landscape! Travel puzzles can get quite beautiful and this one is no exception.
Fun fact – the puzzle is made in Italy too, so it's an image of the brand's home country.
This puzzle contains 1000 pieces, so it's going to be a bit more challenging than a 500-piece one. There's no sky, just different shades of green and brown. The structure of the individual fields differs, so the puzzle is not crazy difficult, but the slight differences in tone make it best to be assembled in daylight.
Clementoni puzzles are on par with the Ravensburger, meaning you'll get the highest puzzle quality possible. I used to solve Clementoni puzzles more than 25 years ago, so it's also a well-established brand.
Thick pieces, which are precisely cut, and beautiful matt finish make this puzzle a joy to solve.
The finished puzzle measures 27 x 20 inches (69 x 50 cm).
Click to check the current price of the Tuscany Puzzle
Evening in the Rocky Mountains by Ravensburger (1,000 pieces)
This, in my opinion, is the best scenic puzzle currently out there, since it combines a beautiful image, medium puzzle piece count and a traditional brand known for its high quality jigsaw puzzles.
And the image is simply stunning. I don't know anyone who wouldn't like this view! Even my non-hiking friends. I typically just engage in day hikes but what a dream it would be to climb to this beautiful spot in the Rocky Mountains and wait till the dusk falls…
There is a portion of the sky that might have you scratching your head when solving this nature scene jigsaw puzzle but nothing too overwhelming. I actually don't worry about big portions in one color when solving Ravensburger puzzles, because if a piece fits, it's not going to fit elsewhere.
With Ravensburger, you can count on having the best puzzle experience. An antiglare finish combined with superior quality puzzle pieces made of thick cardboard will make it easy for you.
While this beautiful image from Ravensburger's Wildlife collection will look amazing on a wall, you may just as well save it for another round of puzzle solving.
Or, if your budget gets tight, you'll have no problems selling it, since Ravensburger puzzles can handle several assemblies.
The completed puzzle size is 27 x 20 inches (70 x 50 cm).
Cacti in the Desert by Eurographics (1,000 pieces)
This image features lovely colors… of a desert in Arizona! Isn't this one of the prettiest nature jigsaw puzzles you've seen?
One of a few puzzle brands actually manufacturing their puzzles in the US, Eurographics has been around for a while and belongs to one of the traditional puzzle brands.
Eurographics make their puzzles from a good quality cardboard and even use vegetable-based ink. It's the first time I've heard that about ink, to be honest.
The puzzle may glare a little, so it's best to use pure daylight or a good overhead lamp.
Be prepared for some challenging parts, but this time it's not the sky. For somebody who enjoys solving beautiful scenery puzzles, the challenge will be fun, though. If you're a beginner, stay away. 🙂
The finished puzzle measures 27 x 20 inches (70 x 50 cm).
Click here to see the pricing of the Desert Puzzle
Pink Mountains Waterfall by InGooooD (1,000 pieces)
If you love calm nature scenes and/or pink & purple color, this is the puzzle for you. 😉
The pieces in this puzzle are a bit larger than it's typical for a 1,000-piece puzzle. Each piece is also marked on the back, making it a super easy puzzle for beginners. Pro can still solve it too – ignoring the letters on the back is easy enough.
The packaging includes a full size poster, so you can build the puzzle on top of it.
Uniquely, InGooooD makes their puzzles out of wood – basswood to be exact. That makes the pieces quite a bit thicker.
InGooooD is a new puzzle brand and they've quickly become popular. I have yet to try solving one of their puzzles.
InGooooD focuses on making dreamy puzzles that can have a calming effect too. That makes their puzzles begging to be framed. 1000 piece nature puzzles don't get better than this.
The completed puzzle size is 20 x 30 inches (50 x 75 cm).
Check out the Mountains Waterfall Puzzle and its price
Positano at Dusk by Chafin (1,000 pieces)
To bring you a bit of variety to these scenery puzzles, here's one where we see more civilization than nature. The famous view of Italy's Positano hill sloping down to the sea is a stunning one.
You can look forward to small and sturdy pieces, which lock together perfectly, and a high-quality picture. It will be a bit of a challenge, due to the relatively large sky/water area.
The box contains a poster too, to help you with the solving. Missing piece support is also provided. Several reviews mention how a missing puzzle piece was replaced within a few weeks.
Moreover, each puzzle piece has a letter on the backside to help with the initial sorting.
The puzzle manufacturer, Chafin, specializes in toddler toys and puzzles don't belong to their main assortment. Still, they've produced high quality puzzles – at least this one!
The puzzle, once finished, measures 20 x 28 inches (50 x 70 cm).
Click to check the current price of the Positano Puzzle
Hallstatt Austria by Buffalo Games (1,000 pieces)
The last of the 1000 piece scenic puzzles in our list comes from Buffalo Games' high-end blanc collection featuring beautiful travel photography.
This particular image shows the fairytale village of Hallstatt in Austria at night. I've recently came back from my second trip to Hallstatt and can report it's still as gorgeous as on this image.
I'm not exactly sure if the snowflakes are real or added in postproduction but they make the parts with too much sky or too much dark mountain a lot easier.
Many people praise the high-quality boxes with magnetic closure that the puzzle comes in.
As for the puzzle pieces, they are sturdy and seem to snap together well. This collection of Buffalo Games is made in China and it looks like recycled materials have not been used.
You'll find a resealable bag in the packaging so that you can store this puzzle for next time or pass it on. A poster comes included, too.
The finished puzzle measures 20 x 27 inches (50 x 67 cm).
Neuschwanstein Castle in Winter by Ravensburger (2,000 pieces)
Do you feel like upping your game and solving a more difficult puzzle? This one picturing the dreamy castle of Neuschwanstein in Germany belongs to the prettiest winter scene puzzles I've come across.
Btw. if you like winter and the holiday season, check out this overview of the best Christmas puzzles.
Also the format of the puzzle is unique, since it's a panorama. The challenge here doesn't come purely from the higher amount of pieces, but also because of the large sections of similarly colored mountains, and then the sky, of course.
But, since this is a puzzle made by Ravensburger (they're the best), you can rest assured each piece has just one perfect spot to be placed in.
Ravensburger puzzles are made in Germany and have a high quality matt finish. The pieces are thick and sturdy and interlock beautifully.
If, for some reason, you don't want to see this beauty up on your wall, you can easily save it for another round of puzzling or sell it. Ravensburger-made puzzles can last for quite a while.
The completed puzzle size is 52 x 24 inches (132 x 60 cm).
Click to see the price of the Winter Neuschwanstein Puzzle
Lofoten in Norway by Ravensburger (3,000 pieces)
The largest puzzle piece count in this overview of the best landscape jigsaw puzzles. This is the ultimate challenge and is not for the faint of heart.
The image features a fishing village called Hamnoy in Lofoten, an archipelago in the north of Norway.
The stunning scenery is quite difficult to assemble as a puzzle, though. Notice the large areas of the mountains and the similar hues of the water and the sky.
This is one of the prettiest scenic photography jigsaw puzzles I've come across.
Still, though, if you're keen to try your hand at a landscape puzzle of a higher piece count, you can't go wrong with Ravensburger.
The traditional puzzle manufacturer from Germany is known for its well cut and thick pieces, which connect smoothly.
The surface of the image has an anti-glare finish, making it easier to work on even in less than ideal light conditions.
This puzzle is priced quite high, but if you don't end up framing it, you can pass it on to friends and family, or simply sell it online.
Given what a challenge this jigsaw puzzle is, it's ideal for long winter evenings.
The finished puzzle measures 48 x 32 inches (120 x 80 cm).
Click to see the price and availability of the Lofoten Puzzle
I hope this has been enough landscape jigsaw inspiration for you. Let me know what your favorite landscape images are and how you're doing solving them.
Pin this post for later: