Is your sweetheart a puzzle fan? Or do you perhaps have a son or a daughter who enjoys puzzling with their spouse? Whether you yourself love jigsaw puzzles or your friends or relatives, any of the following romantic jigsaw puzzles will make any puzzle fan's day.
Even though I've written this article researching Valentine's Day jigsaw puzzles, these romantic jigsaws can be bought yearround! As your fellow puzzle freak, I can attest I'd be happy to receive a love-themed jigsaw any time of year.
Check out this list of Valentine puzzles for adults – all from reputable brands and only with the best reviews.
Oh, and if you'd like a good chuckle, scroll to see the puzzle I recommend last. 😉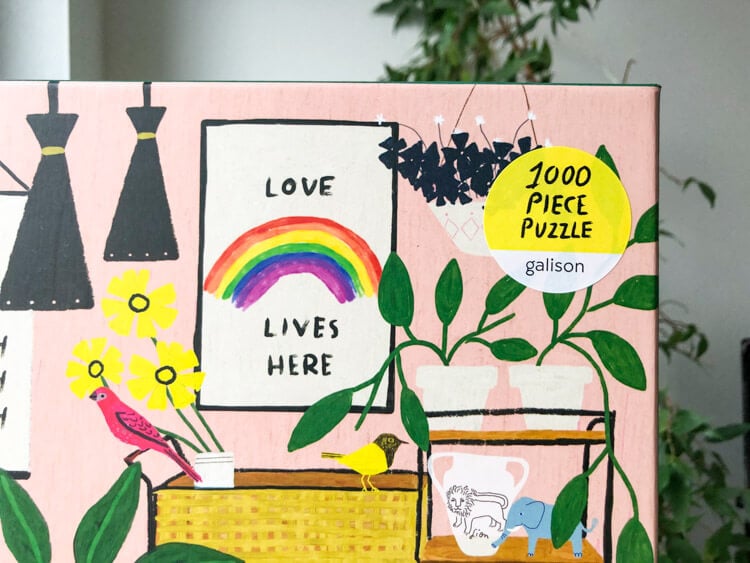 Why Go for a Love Jigsaw Puzzle?
I know, I know. There are so many different puzzle images. Whether you like landscape puzzles or Christmas-themed jigsaws, there's a lot to choose from.
But if there's a special someone in your life who loves solving puzzles, I don't see any better gift of love than a romantic puzzle.
If you two are the goofy kind who like to joke around, you might find the last puzzle on this list intriguing.
If You Just Want a Quick Answer
Are you pressed for time? No worries, I've got your back. If price is not an issue, then I must recommend the love stamp puzzle.
Based on reviews and demand, this is the most popular of all romantic puzzles.
However, it's on the pricy side. If your budget is rather low, scroll to find more options below.
Read more about this jigsaw in the review section below.
Comparison of 10 Best Romantic Jigsaw Puzzles
See all the love puzzles from this list side-by-side in a comprehensive table. Read more on each down below.
The Most Romantic Jigsaw Puzzles by Piece Count
Paris Love by Buffalo Games (300 pieces)
Given the low puzzle piece count, this love jigsaw puzzle can be given to nearly anybody, except extremely experienced puzzle fans. It's one of the most universal jigsaw puzzle gift ideas.
But any beginner, an elderly person, or even a child (above 10 years I'd say) will find it entertaining putting together the 300 pieces. They're of a larger size too – in fact, 67% larger than traditional puzzle pieces, so the grip is easier.
The image features Paris, the City of Love, in both night and day. Hot air balloons fill up the sky during the day, while fireworks light it up at night.
The pieces interlock tightly and so this puzzle can even be picked up when finished. A poster is included, which makes the whole puzzling process even more pleasant.
At the same time, the puzzle is extremely affordable – starting at $9.
Buffalo is an established puzzle brand from the USA and can be counted on.
Once finished, the puzzle measures 21.25 x 15 inches (54 x 38 cm).
Tranquil Sunset by Ravensburger (500 pieces)
I always look for Ravensburger puzzles to recommend, because they're just of the highest quality.
This romantic puzzle depicts a beautiful sunset scene in the mountains. There's nobody around, only a deer couple having a drink from a flickering lake. It's calm and serene.
A puzzle of 500 pieces can be done easily by anyone. Puzzle aficionados will have it completed in a few hours and it's going to be an enjoyable experience.
Ravensburger puzzles feature superior quality pieces with matt finish, which have a signature snug fit. Every piece fits only one place, which makes solving it fun and rewarding.
Ravensburger jigsaws are made in Germany. The price reflects the quality, but this particular puzzle is still very affordable.
The finished puzzle measures 19.5 x 14.25 inches (50 x 36 cm).
Autumn in My Heart by Bgraamiens (750 pieces)
This puzzle is made of wood! Plywood to be exact.
The heart-shaped puzzle is made up of a collection of colorful autumn leaves. It's a wonderful gift to give to your loved one in autumn or practically any time of year.
If you're searching for "I love you" puzzles, this one sends the message clearly given the heart shape.
While the puzzle is not too challenging, even beginners will find it easy, since the pieces are marked by letters on the back.
The packaging includes a poster to make solving this puzzle even more of a breeze.
This affordable wooden puzzle is made in China and is highly rated on Amazon.
The completed puzzle size is 24 x 26 inches (61 x 66 cm).
Love Stamps Puzzle by White Mountain (1,000 pieces)
Everybody's favorite, this love postage stamp puzzle depicts a collection of colorful stamps. But not just ordinary stamps – love stamps! USPS has issued them almost every year since 1973.
Puzzle designer Lois B. Sutton arranged 27 of the love postage stamps into a single picture, making it the ultimate timeless design featuring love. White Mountain Love Stamps puzzle has become a beloved puzzle design and a collectible in one.
This love stamp puzzle of 1,000 pieces is manufactured by White Mountain, an established puzzle brand from the US. They pride themselves on producing high-quality puzzles with a tight interlocking fit. This particular love stamp puzzle is made in the USA too.
The puzzle is of superior quality and can be solved over and over. If your sweetheart doesn't want to glue it and put it on the wall, he/she can pass it on.
In the packaging, you can find a box lid stand to make it easier to keep peeking at the image on the box.
Once finished, the puzzle measures 30 x 24 inches (76 x 61 cm).
Love Lives Here by Galison (1,000 pieces)
I literally just bought this puzzle myself. The love theme on it is subtle. I'd say it's rather homely. One of the quotes says it all – "Love lives here".
The pieces are sturdy and interlock well. They may not be as perfectly cut as it is with other brands.
Galison, a rather young puzzle brand, has their puzzles made in China, but they're designed in the US. Anne Bentley is the illustrator of this one.
A poster is included in the packaging, but it's even smaller than the box, so I don't understand its purpose.
I saw no sawdust in the box. That's always a plus. 🙂
When completed, the puzzle size is 27 x 20 inches (70 x 50 cm).
Raining in Paris by Buffalo Games (1,000 pieces)
As Audrey Hepburn famously said – Paris is always a good idea. And that applies to puzzles too! Especially, if you're after an "I love you" puzzle.
It's not only about the couple in love sharing an umbrella and strolling by a flower shop, but also about the two cute dogs hiding under the bench. Can you spot them?
This design was released in August 2020. It has collected only a few reviews so far, but all are 5 stars. That's quite unique. Around January, Valentine jigsaw puzzles are in high demand, so snap this one while you can!
Buffalo Games is a high-quality brand, which makes affordable puzzles. The puzzle pieces are thick and sturdy and fit tight.
In the packaging, you can also find a full-size poster to help you with the puzzling process.
The finished puzzle size is the standard 27 x 20 inches (70 x 50 cm).
Love and Pride by EuroGraphics (1,000 pieces)
For some LGBTQI romance, this Love and Pride puzzle is just the best gift of love. And a great Valentine jigsaw puzzle.
The design says it all. A large heart on the background of the pride rainbow flag with the word Love scripted all over.
Of course, even straight couples and individuals will enjoy this puzzle. From a strictly puzzling point of view, this puzzle is going to be fun given how colorful it is and how easily you can divide it into sections. You can also solve it in more people!
EuroGraphics is a traditional American puzzle brand and you can count on its quality.
While many EuroGraphics puzzles are made up of funky shapes, it's not the case with this puzzle. It follows the standard grid layout and all pieces are the same shape. Nothing an experienced puzzler couldn't tackle, though!
This puzzle, too, measures the standard 27 x 20 inches (70 x 50 cm).
Romantic Star Sea by Ingooood (1,000 pieces)
Another wooden puzzle on this list. This one shows a beautiful scene – a proposal (I believe!) on the backdrop of a magical sky full of stars… I think it's one of the most beautiful love puzzle images.
This puzzle is a part of Ingooood's Imagination Series and will be a great candidate to put up on the wall once finished.
If the puzzling gets tough (there are not too many different colors!), your dear one can refer to the letters on the backside of the puzzle pieces.
All the pieces (except the edges) are of the same shape, which might annoy some puzzlers.
A helpful full-size poster is included in the packaging.
Ingooood puzzles are made in China and belong to the most affordable wooden puzzles on the market. The quality is good and their puzzles constantly receive high praise.
The completed puzzle measures 30 x 20 inches (76 x 50 cm).
Maple Leaves Heart by Ingooood (1,000 pieces)
This is the second and last recommendation of a romantic puzzle by Ingooood. And one that clearly belongs into the "I love you" jigsaw puzzles section.
Part of the Tranquil Series, this puzzle shows a beautiful lone maple tree with its crown shaped like a heart.
This is a wooden puzzle too – made from basswood. The puzzle is novice-friendly because of the letters printed on the back.
Unlike the previous Ingooood puzzle, this one is made of different shapes in a standard puzzle grid, which makes it more enjoyable.
This particular puzzle includes a powder glue sachet, so you can have it glued up the moment you finish puzzling. This is definitely one of those images that are made to be framed.
Since the wooden pieces interlock especially tight, you might not even need the glue!
As is common with Ingooood puzzles, the finished size is 30 x 20 inches (76 x 50 cm).
Humping Chihuahuas by Better Me (1,000 pieces)
The last and the funniest puzzle on this list. If your loved one doesn't take him/herself too seriously, this one can be a great gift!
I've actually read in the reviews of how a grandma got it as a present and how this puzzle became popular in her nursing home. 🙂
It needs to be said this puzzle is not the easiest. See how much green there is on the image? The chihuahuas are a piece of cake, but solving the grass area will take a while.
The puzzle can be given as a prank gift too.
The Better Me company makes high-quality puzzles with pieces that interlock well. They specialize in games and puzzles, and prank gifts are their specialty.
Once finished, the puzzle is 27 x 20 inches (70 x 50 cm).
Let me know what you think about these romantic jigsaw puzzles and whether you've found one (or several!) to purchase for your sweetheart.
Pin this post for later: