If you love the beach, you'll absolutely love solving beach puzzles too.
In a way, they can even be more comfortable than an actual beach experience – you'll cozy up at home and won't have to deal with the heat. 😃 Just the tan won't be the same. 😉
I've prepared this list of beach scene puzzles because they're often the prettiest kind of landscape puzzles. The beach and the mountains. Do you agree?
And if you're a puzzle fan, you need to have at least one in your personal puzzle pile.
Why Choose Beach Puzzles Over Other Images?
Phew, where do I even start… I'm writing this overview in the weird year of 2020, so a beach jigsaw puzzle is pretty much the only way to get us to the beach. Sadly.
Those of us who love puzzles already know too well how to immerse ourselves in the puzzling activity and be captivated by the image we're putting together to not mind the bleak situation we've found ourselves in.
The Best Beach Jigsaw Puzzle
If you don't want to spend more time choosing the most ideal beach puzzle for yourself or a friend, you can't go wrong with this one, a prime example of the best tropical beach puzzles:
If this Ravensburger beach puzzle doesn't exactly tickle your fancy or you're just curious what else is out there, keep reading.
What to Consider When Choosing Beach Scene Puzzles
So what do you have to consider when purchasing beach jigsaw puzzles?
Image itself
That's the easiest one, of course. If a puzzle motif simply doesn't speak to you, skip it. There are plenty of beach puzzles for adults to choose from.
Pay attention to the quality of the image. If it's an illustration, are the lines clear and pretty? Is the artwork by a well-known designer? If it's a photograph, isn't it too dark or overly saturated?
If you plan to hang your puzzle after finishing it, you need to do well on choosing a good beach image that will match your home well.
Number of pieces (and their size)
Are you an experienced puzzler who likes a good challenge? Then scroll to the end of this post, since the puzzles are ordered by the puzzle piece count.
If this is your first puzzle, don't push it and go for the 300 or 500 pieces puzzle. This applies to beach scene jigsaw puzzles and actually all other images too.
1,000 pieces puzzles are already for those with some puzzle experience or simply those who like a good challenge and can take things slowly. With my tips on how to do a jigsaw puzzle, you'll get there in no time.
For some reason, scenery beach puzzles don't really come in higher puzzle piece counts, at least from what's currently available on Amazon.
Brand
In the overview below, I chose only the highest quality brands. Those I've tried and tested, or, in case I don't have any experience with a brand, are highly rated.
I recommend staying away from new brands with no reviews since manufacturing a high-quality puzzle is no easy task, and you'll feel the pain while solving it, trust me.
Price
Especially if you choose a puzzle of a high-quality brand such as Ravensburger, you'll have to pay more for it. On the other hand, such puzzles can be easily resold or completed over and over again.
But there are quite a few brands that produce good-quality puzzles at an affordable price. See below.
Comparison of 10 Most Captivating Beach Jigsaw Puzzles
Let's see all the beach themed jigsaw puzzles on the list side by side in a comprehensive table:
Overview of the 10 Best Beach Themed Puzzles
Lighthouse on the Beach Puzzle by Ravensburger (300 pieces)
If you're looking for a good lighthouse beach jigsaw puzzle, stick to Ravensburger, one of the traditional brands on the market.
This puzzle is beautifully illustrated. We cannot tell where the beach is, but it sure makes for calm scenery.
Since this puzzle features large pieces that are easy to grip, the whole family can have fun with it together, including the grandparents and the kids.
The finished puzzle measures 27x 20 inches (70 x 50 cm), a common size for this brand.
South Beach Miami by Dowdle (500 pieces)
You would think since the Sunshine State has so many stunning beaches, there would be an abundance of Florida beach puzzles, but that's not the case!
This is the only one I found among all the 500 piece beach scene puzzles, featuring the iconic South Beach near Miami. I visited it myself and absolutely loved it.
This new-ish puzzle brand features work solely by the artist Eric Dowdle and has already amassed raving reviews.
The puzzle is unique in many ways. Providing an extra sealable bag for the puzzle pieces may be a tiny detail, but it matters.
There are also quite a few hidden "Easter eggs" in the image, so you're in for an adventure. 😊
Dowdle has a "no missing pieces" policy. They offer to replace the whole puzzle if there's a piece missing. However, I haven't heard from anyone if it actually works and haven't had the chance to try it myself.
Once completed, the puzzle is 20 x 16 inches (50 x 40 cm).
Paradise Beach at Sunset by Clementoni (500 pieces)
Beach sunset jigsaw puzzles are usually oversaturated and look quite fake. That's fortunately not the case with this high-quality puzzle by Clementoni.
Clementoni is one of the traditional brands and they manufacture their puzzles in Italy. The quality is comparable to Ravensburger.
The image depicts the most idyllic tropical beach. This is what an exotic vacation should look like. The sun setting above the ocean, creating a stunning colorful palette that mirrors in the water so beautifully it almost hurts the eyes.
I find it to be one of the most romantic puzzles. Mainly because of the sunset. 🧡
This beautiful puzzle can easily go on the wall – it's that kind of a picture-perfect scene.
Once completed, the puzzle measures 19 x 14 inches (49 x 36 cm).
Double-sided Hawaii Beach Puzzle by Galison (500 pieces)
This puzzle may be the most special one of the tropical beach jigsaw puzzles on the list. It's 2-sided!
I'm sure you immediately wonder how one can tell one side from the other. Isn't it a complete mess?
Well no, since one side is shiny and the other matt. One side features Hawaii's famous Waikiki Beach, while the other side shows a lush green beach on Kauai Island.
Both photographs were taken from a helicopter by an LA-based aerial photographer Gray Malin.
Galison is a traditional stationery brand. Puzzles make up only a portion of their assortment, but they're rated well.
The finished puzzle measures 24 x 18 inches (61 x 46 cm).
Mickey and Minnie in Hawaii by Ceaco (750 pieces)
We'll stay in Hawaii with this beautiful, illustrated puzzle. This one is for all the Disney fans! Disney beach puzzles don't come in many shapes and forms, so grab it while you can.
This puzzle is made by Ceaco in cooperation with the famous artist Thomas Kinkade. The company has manufactured many of the artist's stunning designs and is especially famous for their Christmas holiday puzzles.
If you, too, identify as a Disney fan, check out my recent post on the best Disney puzzles for adults.
The puzzle is made in the USA and has top reviews.
The colors on the image are bright and beautiful, so you're in for a treat while solving this puzzle.
Once solved, the puzzle measures 24 x 18 inches (61 x 46 cm).
Tropical Seaside Beauty by Ravensburger (1,000 pieces)
I personally love Ravensburger beach puzzles and I've recently worked on a similar one (this one – unfortunately unavailable at the moment of writing).
With Ravensburger, you can count on the topmost quality. Their puzzles are made in Germany and are famous for their perfect snug fit.
This is the first on this list of tropical beach puzzles of 1000 pieces. I like this amount of pieces and rarely go below. A thousand pieces is perfect for any experienced puzzle fan, or an excited beginner who likes a good challenge.
When finished, the puzzle is 27 x 20 inches (70 x 50 cm).
Thai Boats on a Beach by Ravensburger (1,000 pieces)
Another beautiful Ravensburger beach puzzle, this one is mislabeled on Amazon as the Caribbean! But no way, these boats are clearly Thai and the karst island in the background is in the very South of Thailand.
If you're thinking the sky on the image looks a bit too dark and unreal, it's just a poor photo of the product. I've double-checked the reviews with photos and the puzzle looks just stunning.
Again, since Ravensburger is one of the most traditional and high quality brands, this is one of the best 1000 piece beach scene puzzles you can get your hands on. It costs more, but can be easily resold or assembled over and over again.
This puzzle also measures 27 x 20 inches (70 x 50 cm) once finished.
Globetrotter – Beaches by Eurographics (1,000 pieces)
This 1000 piece beach puzzle doesn't feature just one beach, but 42 of them!
Any beach bum will happily work on this puzzle. Travelers especially will enjoy this motif, since the beaches come from all over the world.
Eurographics manufactures their puzzles in the United States and belongs to the more traditional brands.
Like other puzzles by this brand, it has uniquely shaped pieces, which frustrates some puzzlers and delights others.
I tried a Christmas puzzle by Eurographics and found the funky pieces entertaining. So this would be another of my picks of beach jigsaw puzzles of 1000 pieces.
Count with measurements of 27 x 20 inches (70 x 50 cm) once finished.
Beachcomber's Bounty by Buffalo Games (1,000 pieces)
One of the best-rated beach beach themed 1000 piece puzzles on the list and yet it's quite cheap too.
Beachcomber's Bounty is a beautiful illustration of a beach full of colorful seashells and things you can find in the sand.
The artist of this image, Aimee Stewart, hid 12 unique little details inside the illustration. Solving this puzzle is thus going to be even more fun.
Buffalo Games proudly produces their puzzles in the United States and belongs to one of the traditional American brands.
The completed puzzle measures 27 x 20 inches (70 x 50 cm).
Panorama Beach Puzzle by Heye (1,000 pieces)
We couldn't end our list of beach themed 1000 piece jigsaw puzzles on a better note – with a dreamy panorama beach puzzle.
This charming beach scene will beautifully adorn your walls and bring you peace. It depicts Wharariki Beach in New Zealand.
Plus, Heye is a proven brand producing high-quality jigsaws. They're actually a publishing house from Germany.
This series is called Alexander von Humboldt after the famous geographer. It showcases the most gorgeous natural scenes caught on camera.
It's more on the upscale side, but hey – if you bought a painting, it would be even more expensive!
Once finished, the puzzle size is 37 x 13 inches (95 x 33 cm).
So, what do you think? Did you find a favorite among all these ten beach puzzles? Let me know which one you like the most!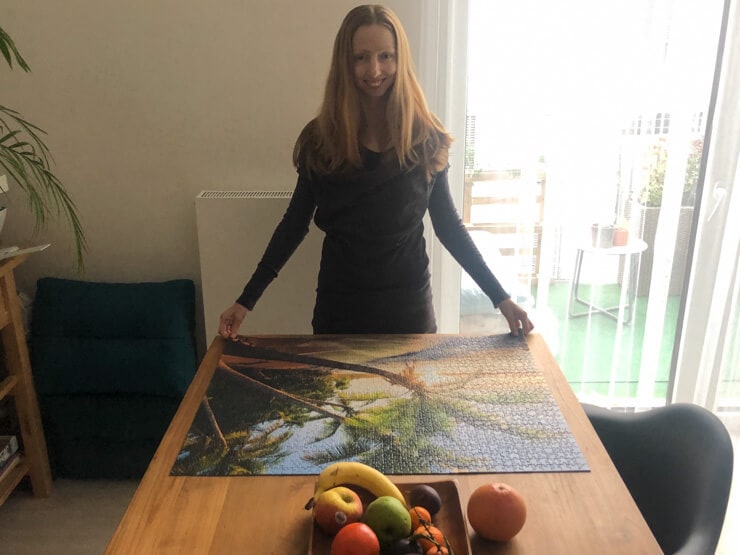 Pin this post for later: