Giving somebody you care about a Christmas puzzle gift, is one of the most thoughtful acts, and that applies any time of year.
But you can buy one for yourself too, no need to be shy about that.
Since I'm a puzzle geek myself, I put together this overview of the best Christmas puzzles – I'd love to receive any of these! I hope my friends and family are reading this. 😉
There are many Christmas themed puzzles to purchase, but I did my best to select the prettiest and highest-quality ones for you.
If you're looking at any puzzle theme, since you may want to give a landscape puzzle or any other motif as a Christmas gift, check out my other article on jigsaw puzzles for Christmas.
When you're ready to buy Christmas puzzles (yes, you're allowed to get more than one), just click on the affiliate link (at no extra cost to you) and it'll take you straight to Amazon.
Why Buy Christmas Themed Jigsaw Puzzles
Christmas holiday puzzles work great during the time leading up to Christmas when everybody's looking forward to the festive season.
But that's not to say you shouldn't buy a Christmas themed jigsaw puzzle as a gift to put under the Christmas tree.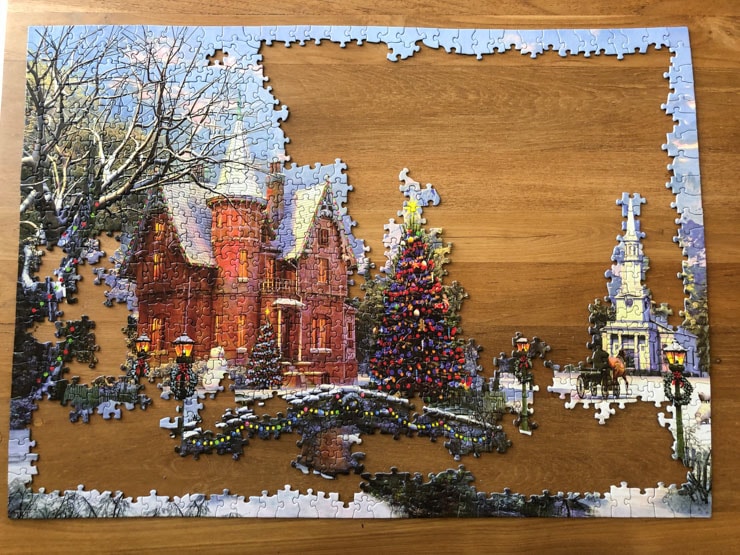 On the contrary – when one solves the puzzle after Christmas, the magic of the holiday can be extended well beyond December. And take away the boredom that sometimes creeps in the long wintery evenings, when we often just mindlessly reach out for the remote control.
Plus, if you buy a quality Christmas puzzle, it can be worked on again next year. It's one of the rare types of Christmas gifts that just keeps on giving.
If You Just Want a Quick Answer…
You cannot go wrong with this EuroGraphics Christmas puzzle. It is one of the most beautiful Christmas puzzles on the market. You can read about it more in my review section below.
Best Christmas Puzzles by Piece Count
Let's have a closer look at the Xmas puzzles by their piece count. The most popular Christmas puzzles for adults are often of the 1000 piece type. The larger the piece count, the more it's a match for an adult rather than a kid.
1000 piece Christmas Puzzles
These Christmas puzzles of 1000 pieces will keep anyone entertained for hours. They're usually just the right degree of challenging – not too much, not too little.
Here's a table of the best Christmas jigsaw puzzles for a handy overview, you can see more about each puzzle right under.
Let's start with the 1000 piece Christmas jigsaw puzzles:
NYC Christmas by Ravensburger
Are you looking for a Ravensburger 1000 piece Christmas puzzle? I'm not surprised, they are the best!
Each year, the company launches Ravensburger limited edition Christmas puzzles. However, this one was released in 2013 and is still going strong. While the image on the puzzle is painted, and some puzzlers might find it blurry, it's a beautiful scene and a popular one too.
While the quality is top-notch and the individual pieces fit together perfectly, this Ravensburger Christmas Puzzle is challenging and not ideal for beginners. If you're not a seasoned puzzler yet, check out my post on puzzle solving strategies and even hard Christmas puzzles will become a breeze.
Ravensburger puzzles tend to be priced higher and this one is not an exception.
Still, though, since Ravensburger Christmas puzzles have become a sort of a collectible, after you're done solving it, you can resell it easily. This justifies the higher price point.
The finished puzzle measures 27 x 20 inches (70 x 50 cm).
Holiday Lights by EuroGraphics
This EuroGraphics Christmas Puzzle is the one I solved myself. Based on how many times I've been asked about it, you must also think it's one of the best holiday puzzles available. 😊
It features a beautiful winter scene in a village, with a castle-like mansion, a church, and a cute bridge over a little creek, all covered in snow.
As it's common with EuroGraphics, the puzzle pieces have irregular shapes. Even putting the edge pieces together is not an easy task. But it's a fun challenge.
The quality is high, even though there's a slight glare.
EEuroGraphics Christmas jigsaws are proudly made in the USA.
Once finished, the puzzle is 27 x 20 inches (70 x 50 cm).
Red Barn Farm by Springbok
Springbok Christmas puzzles have also earned their reputation. The high-quality cut pieces of a larger size are made in the USA from thick cardboard and are even printed using soy-based ink.
This particular image shows the magical time when you go pick out the best Christmas tree for your home.
What stands out the most about Springbok Christmas puzzles is, however, their exceptional missing piece support.
The company claims it takes 8 – 10 hours to finish this Christmas vacation puzzle.
Once completed, the puzzle size is 30 x 24 inches (76 x 61 cm).
Christmas Cheer by Vermont Christmas Company Puzzles
This jigsaw belongs to one of those Christmas scene puzzles, which have the ability to melt anybody's heart.
Vermont Christmas puzzles come in many shapes and forms but I find this image to be the prettiest of them all.
Vermont is another established puzzle brand producing their quality interlocking pieces on the US soil.
Customers rave about their customer service, which often deals with replacing missing pieces.
Count with the finished puzzle size of 30 x 24 inches (76 x 61 cm).
Christmas House Puzzle by White Mountain
White Mountain Christmas puzzles are also known for their high quality, which reflects in the price.
This 1000 piece Christmas puzzle shows a house on a Christmas Eve – kids have gone to bed and Santa has just landed on the roof to deliver the presents. If you're looking for a Santa jigsaw puzzle, this could be the one.
This traditional brand also makes puzzles in the US from a high-quality cardboard.
This puzzle, when finished, also measures 30 x 24 inches (76 x 61 cm).
Thomas Kinkade Santa's Special Delivery by Ceaco
Ceaco Christmas puzzles would be nothing without Thomas Kinkade. The artist has created some of the most beautiful Christmas scenes in his puzzles.
Thomas Kinkade Christmas puzzles are true masterpieces, which you can see also on this picture of Santa carefully placing gifts under a family's Christmas tree.
Santa Claus jigsaw puzzles are not hard to come by, but Thomas Kinkade takes them to the next level.
There's just enough detail in this puzzle to make it a pleasant experience all along.
Ceaco is a traditional American company and produces their puzzles in the US too.
The puzzle pieces are cut from hard cardboard, and the finished puzzle measures 26.6 x 19 inches (68 x 48 cm).
The Polar Express by MasterPieces
If you're looking for a Christmas train puzzle, then look no further – this is the best one you can get. Depicting a scene from the movie The Polar Express, this Christmas puzzle is sure to please.
The quality pieces are made from a recycled cardboard and interlock well.
Masterpieces is an American game company and they've been around for over 2 decades.
The finished puzzle measures 26.8 x 19.3 inches (68 x 49 cm).
With this one concluding our list of Christmas jigsaw puzzles of 1000 pieces, let's move on to the next most popular puzzle piece count:
500 piece Christmas Puzzles
If you're buying the very first puzzle for yourself or a friend, it pays off to start small and work up the puzzle muscle gradually.
Often these 500 piece Christmas jigsaw puzzles measure, once finished, the same as those of 1000 pieces (usually the case with Ravensburger), but the pieces are much larger. That makes it easier to handle also for children or the elderly.
The following are the best holiday jigsaw puzzles of 500 pieces:
Apres All Day by Ravensburger
This motif is the closest that comes to a proper Ravensburger 500 piece Christmas puzzle this year. But fear not – it still invokes the wintery feeling. The Christmas tree must be hiding indoors. 🙂 Plus, it's colorful and a lot easier to finish with no big area featuring one color only.
Ravensburger Christmas jigsaw puzzles are known for their high quality pieces (each is unique) made in Germany and anti-glare surface.
Whether you want this puzzle for yourself or as a gift for someone, you will definitely make yourself/him/her satisfied!
Ravensburger states this particular winter puzzle takes 4 – 6 hours to solve. Will you accept the challenge?
If you don't like this one and still insist on 500 piece count, then you have to wait for next year's edition of Ravensburger Christmas puzzles.
The finished puzzle is 27 x 20 inches (70 x 50 cm).
Harry Potter Christmas Puzzle by New York Puzzle Company
So this, ladies and gentlemen, is how Christmas looks at Hogwarts. You can feel like you're there with Harry and everyone thanks to this beautiful illustration.
This Christmas jigsaw puzzle is made in the USA from high-quality recycled chipboard and given a matt finish.
A wonderful array of shapes of the puzzle pieces is only one of the many fun aspects of this jigsaw.
Any Harry Potter fan will love solving this puzzle!
Once finished, the puzzle measures 24 x 18 inches (61 x 46 cm).
Santa's Visit by Springbok
This particular 500 piece Christmas puzzle is the only vertical one in our collection.
Manufactured by Springbok, this beautiful Christmas tree jigsaw puzzle shows the tree with a bunch of presents right after Santa's visit. A cat is watching him out of the window – see the sleigh in the sky?
Springbok too produces their puzzles in the USA and can thus provide a missing piece support. You can count on great quality of the materials used, including the printing.
It should take 4 – 6 hours to solve this Springbok Christmas tree farm puzzle. There are a few tricky parts, but nothing too challenging.
The resulting puzzle image measures 18 x 23.5 inches (46 x 60 cm).
2000 piece Christmas Jigsaw Puzzles
For those of you who would enjoy a good 2000 piece Christmas puzzle, there's surprisingly not much choice! These are the best ones I found:
Thomas Kinkade Santa's Workshop Puzzle by Ceaco
Thomas Kinkade puzzles bring about the most magical Christmas atmosphere with rich colors and details. This 2000 piece Christmas jigsaw puzzle is no exception.
Don't you just feel like you're at Santa's workshop right now, smelling the burning fire and watching little elves run around?
Ceaco Christmas puzzles are made in the US and promise high quality. A poster of the image will help, but still, this puzzle is definitely not for beginners!
The finished puzzle size is 38 x 26 inches (97 x 66 cm).
Winterland Fun by Buffalo Games
This outdoor wintery scene on the jigsaw has everything you could think of. There's so much going on that you'll be noticing new things all the time as you go about solving the puzzle.
In the packaging (made only from recycled materials), you'll find an additional poster of the image, to help you in solving.
What's more, Buffalo Games Christmas puzzles feature pieces that interlock beautifully, so you'll always be sure you found a piece's only perfect spot.
This puzzle is also proudly made in the US. If your puzzle is less than 4 years old (this one is manufactured in 2019), Buffalo Games provides a missing piece support!
Once finished, the puzzle is 38.5 x 26.5 inches (98 x 67 cm).
300 piece Christmas jigsaw puzzles
But Christmas jigsaw puzzles for adults come in lesser piece counts too. If you're after only a 300 piece Christmas puzzle, which even children can do, go for this one:
National Lampoon's Christmas Vacation Puzzle by Ceaco
300 piece Christmas puzzles usually come with kitschy images, but this beautiful artwork by Thomas Kinkade is a rare exception to the rule.
It'll warm the heart of anyone who loves watching the National Lampoon's Christmas Vacation. Isn't that everyone??
Thomas Kinkade Christmas Jigsaw Puzzles are appreciated in the puzzling community, so you can easily resell your puzzle later if you don't wish to keep it.
The puzzle has over-sized quality thick cardboard pieces (made in the USA), which are great for elderly people and children alike.
The puzzle measures 24 x 18 inches (61 x 46 cm) when finished.
Ok, I hope this list of the best Christmas puzzles of 2020 and 2021 has been useful to you and that you picked one or two of Christmas themed jigsaw puzzles to solve with your family and friends.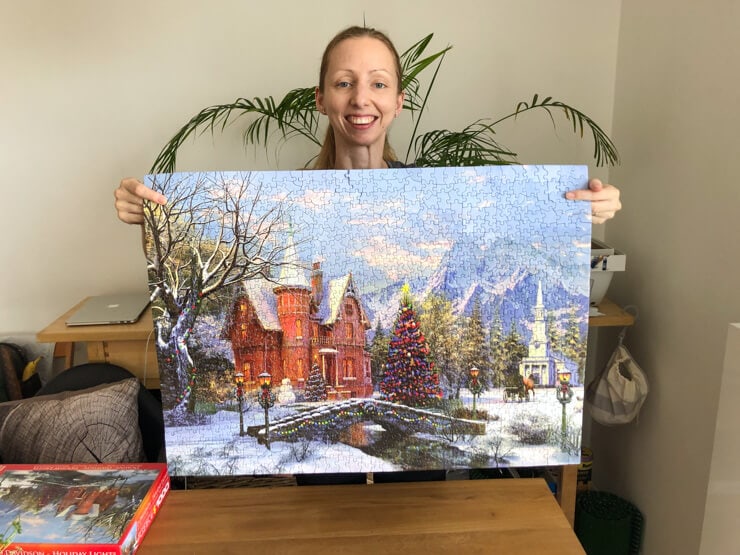 Let me know how you like working on holiday-themed puzzles – do you do them year-round or just at Christmas?