As I'm writing this post, I've just finished a beautiful world map puzzle and I thought – wow, other than travel scene jigsaws, world map jigsaw puzzles are the best! 😍 
You may feel the same way if you adore traveling like me. 😊
So I've done some meticulous research and came up with this overview of jigsaw puzzles of maps. I've done many myself and can report from firsthand experience.
If You Want a Quick Map Jigsaw Recommendation…
… and be on your way:
I can highly recommend this beautiful world map jigsaw puzzle for adults by Trefl. It's of high quality, and the image is flawless.
Why Map Puzzles?
Ok, so why should there be a map jigsaw puzzle in your puzzle stack? Well, other than that they're just awesome, there are a few reasons why you should pick a map over other images:
a good world map jigsaw puzzle can provide a fun learning experience
it can be hung on the wall, and you can even mark your visited destinations or those you wish to travel to in the future
depending on the quality, they are not too difficult
if you're interested in the history of jigsaw puzzles, you know that's how puzzles originated – from maps!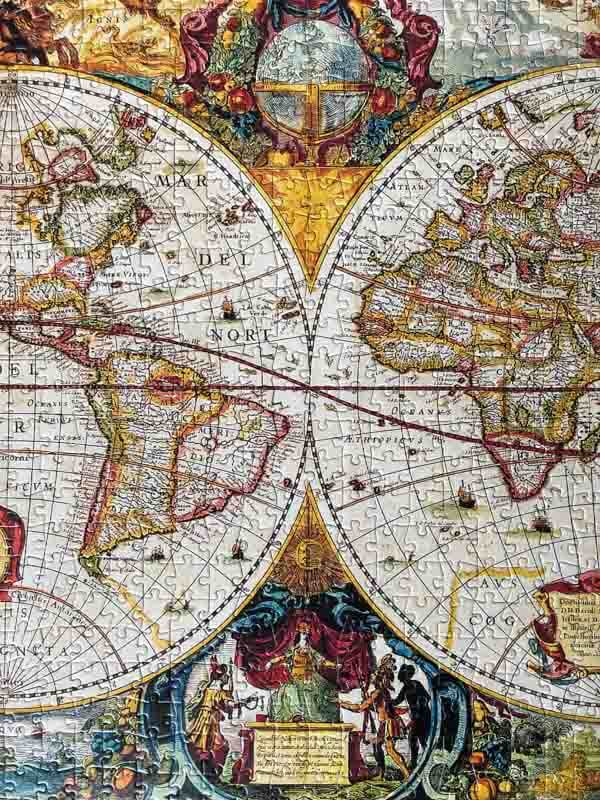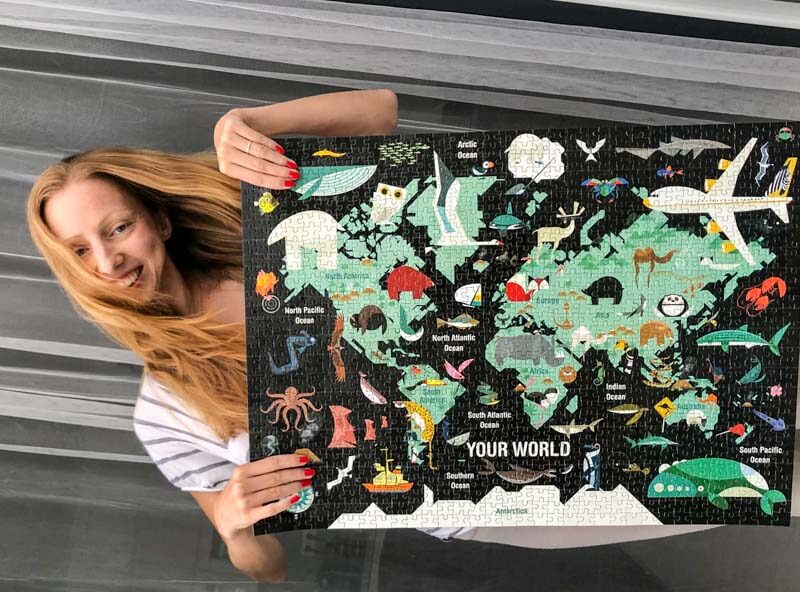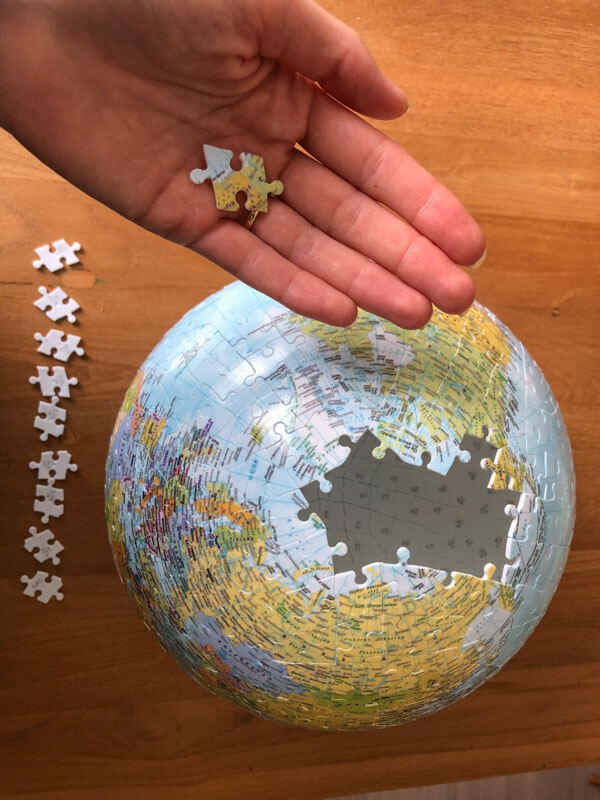 Jigsaw Puzzle Maps' Specifics
World map jigsaw puzzles have their specifics. You can sort puzzle pieces into those of land and those of sea. There's the grid of latitude and longitude lines, to help guide you as you puzzle. This should be your main puzzle strategy for these map jigsaws.
On a full map of the world jigsaw puzzle, the letters are going to be super small. You won't be able to read them all. Either you ignore the smallest letters, or you should get yourself a magnifying glass. You can even make use of the Puzzle Scoop with a built-in magnifying lens and a LED light. 
Okay, let's get to our world map puzzles for adults (or extremely skilled children), shall we?
Let's start with those with the highest number of pieces and move down:
Overview of the Top 10 World Map Jigsaw Puzzles
The World Map by Educa
4,000 pieces
This Educa world map puzzle for adults commands respect. After all, it's 4,000 pieces of not the easiest image. 
The map is political so it includes also outlines of countries. 
You know which parts are going to be the easiest? The corners, which contain all flags. 😁
The Spain-based manufacturer Educa is known for high-quality puzzles. The pieces fit together a bit loosely. 
Even with this 4000 piece puzzle world map, you may experience a few pieces of the same shape and very similar color. 
Also, when reading the description on Amazon, ignore the information that the package contains batteries. It does not. 😆
Moreover, unlike the description says, the puzzle box does not include a poster. That's why having a magnifying glass is absolutely key with this puzzle. If you don't have one at home, you can invest in the aforementioned Puzzle Scoop.
Puzzles with a high amount of pieces are usually quite expensive but this Educa world map puzzle can be bought at a reasonable price.
When finished, the puzzle measures 53.5 x 37.8 inches (136 x 96 cm).
Wonderful World Map by Anatolian
3,000 pieces
If you're looking for a map jigsaw puzzle that has quite a bit more going on, you won't go wrong with this Anatolian one.
Here, you won't need to look for names of places, mountains, or seas… to grab onto something. Instead, the image shows a busy illustration of world landmarks. 
Generally speaking, Anatolian puzzles are of good quality and very affordable. An anti-glare finish makes it easier to puzzle even under artificial light.
Every puzzle comes with a box stand. 
Each piece is unique and if you have one missing, Anatolian claims to offer a replacement, available worldwide.
The finished puzzle measures 47.2 x 33.5 inches (120 x 85cm).
Physical Map of the World by Trefl
1,000 pieces
This is my favorite world map jigsaw puzzle and one I did recently. It features a beautiful physical map of the world. Simple and clear.
The writing is super small and you'll need a magnifying glass or the Puzzle Scoop to read the names of places. You can also choose to ignore them, though. 😁
Apart from the actual map, you have also a few other elements around the edges, which are quick and simple to put together.
I separated the edges, the pieces on the outside of the globe, and then the ocean and the land. It was an effective way, I think.
Trefl puzzles have substantially increased their quality in the last few years. This one was such a joy to assemble! The pieces fit together beautifully.
Also, there was virtually no puzzle dust. I was shocked!
This same image comes also in a 4,000 pcs version.
Once completed, the puzzle size is 27 x 19 inches (68 x 48 cm).
Antique Map by Buffalo Games
1,000 pieces
If you'd rather get a classy antique world map puzzle, this colorful one by Buffalo should be your pick. 
I did this exact antique map puzzle and loved it. It was moderately difficult, and it helped that the image gets busier at the edges. There are also portraits of four people who made significant contributions to map-making.
When puzzling in the middle of the image, you'll need to use the lines of longitude and latitude to guide you. It's easy to get used to, though. 
In case you haven't done a Buffalo puzzle before, you may be surprised at the lack of a plastic bag. Buffalo puzzles simply come in a sealed box. A poster is included too.
The puzzle pieces were slightly thin but still sturdy, interlocking well, and a pleasure to work with. 
The resulting antique world map jigsaw puzzle is beautiful and can be hung on a wall with confidence. 🙂
Once finished, the puzzle is 26.75 x 19.75 inches (68 x 50 cm). 
Antique World Map by Educa
1,000 pieces
Another nice antique map jigsaw puzzle, that's this Educa! 
The design may look antique but it's actually a modern map, just made to look old. 
You'll find the edges easy, and won't have a problem putting together the flags, the boats, and the round elements. Once you have those done, pay attention to the guiding lines of longitude and latitude.
With this puzzle, too, you'll need a magnifier or the Puzzle Scoop. 
The puzzle comes with a glue powder, should you choose to put it on your wall. An old world map puzzle such as this one would look great as a decor piece.
Educa manufactures quality puzzles with thick pieces. They interlock well, however, every once in a while you'll come across two pieces connected only through a wave, and not interlocking like usual. It's a design thing and makes for a more fun experience.
The completed puzzle measures 26.8 x 18.9 inches (68 x 48 cm).
Political World Map by Ravensburger
1,000 pieces
If you've seen a few articles on my site, you know I'm a big fan of Ravensburger puzzles so naturally, I had to include a Ravensburger world map puzzle.
The map, clearly divided by color-coded countries, is easy to put together. Plus, you have all the flags on the sides. 
You may experience some frustration once you have only the oceans left but the same still applies – let the latitudinal and longitudinal lines guide you. 
Overall, this political world map puzzle will be enjoyable and fairly easy.
Ravensburger manufactures puzzles with legendary German precision. The pieces are sturdy, have an anti-glare finish, and interlock like a charm. 
The finished puzzle size is 27 x 20 inches (68 x 50 cm).
Your World by Mudpuppy
1,000 pieces
In case you like the world map theme but don't necessarily need more than an outline of continents with other fun things going on, get yourself this Mudpuppy puzzle!
The illustration by Paul Daviz features typical animals spread over a map of the world. All in a black & green design, which can adorn your walls beautifully too.
I did this puzzle and considered gluing it but ended up not doing so because some pieces were damaged. 
The pieces are a little thin and sometimes not perfectly cut. And – all of the same shape! With Mudpuppy and Galison, I have a neat trick that works – chubby pieces belong vertically, while thinner ones are to be placed horizontally. 
Even though it's a different puzzling experience than, say, Ravensburger or Clementoni, the puzzle is still a joy to put together.
There's a small poster included in the box. I didn't use it, though, because the box cover image is a little bigger. 
Once finished, the puzzle measures 27 x 20 inches (68 x 50 cm).
Full Bloom World by Galison
1,000 pieces
Yet another creative take on a world map jigsaw puzzle. This beautiful image by artist Wendy Gold shows blooming flowers arranged in the shape of continents. 
The rainbow-like flowers will be quite easy to put together. The challenge starts once you have nothing but black pieces left. 😉
Galison is the brand behind this blossoming map puzzle. Just like Mudpuppy mentioned above, the pieces are slightly thin and all of the same shape. Use my trick described above to be able to tell which piece is clearly a horizontal one and which is vertical.
This puzzle, too, includes a small poster in the box. 
Once finished, the puzzle measures the standard 27 x 20 inches (68 x 50 cm).
Best of the World by Dowdle
1,000 pieces
This extra busy illustration makes for a fun puzzling experience. You won't have to worry about large areas of the same color, such as oceans. 😁
Plus, in the details of the image, you can find a few "Easter eggs". Pay attention to the image when puzzling and you'll see for yourself.
Dowdle puzzles are based on the artwork of Eric Dowdle and are made in the US. They come with a poster and an additional resealable bag, all packaged in an especially beautiful box.  
With Dowdle, you can look forward to high-quality, thick pieces, which interlock perfectly. 
Dowdle also has a "No missing pieces" policy and claims to replace your puzzle if you have a missing piece.
The finished puzzle measures 26.625 x 19.25 inches (68 x 49 cm).
3D Globe Puzzle by Ravensburger
540 pieces
To have the most complete list of world map jigsaw puzzles, I've decided to include this 3D Globe by Ravensburger too.
The 3D world map jigsaw puzzle is, in my opinion, nothing like a traditional puzzle. How so?
The pieces are plastic and you have to push them together so that they hold well and keep the shape. The pieces are numbered on the back so that you can put them together better.
I must say I'm not a fan of 3D puzzles generally. With the Ravensburger globe puzzle, I at least gained a nice decorative piece for my home. 
My particular 3D globe puzzle doesn't spin as it should because the metal part doesn't fit. I believe it's a defect of this one piece, though.
So, if you enjoy 3D puzzles and are looking into globe puzzles, this one may be just perfect for you. 
The completed globe is about 9 inches wide. When placed on the metal stand, it sits about 12 inches high.
I hope this overview of the current best world map jigsaw puzzles has inspired you and you've found one you'll enjoy not just puzzling on but perhaps even putting on the wall at your home. 😊