Nobody knows this about me but the very first jigsaws I put together as a child were jigsaw puzzles with dogs. I always wanted to have a dog and my puzzle activities reflected that.
The two dog jigsaw puzzles my puzzling hobby started with were of a dog staring at a chicken placed on a barrel, and another of two dugs laying side-by-side. They both still hang on the wall at my parents' apartment, nearly 30 years later.
While today I mostly solve landscape puzzles, I still love jigsaw puzzles of dogs. I'm going to tell you another fun fact about my early obsession with dogs at the end of this post so that we can look at actual puzzles now. 😉
Unlike my other posts on choosing different jigsaws, this time I'm not going to list them by the number of pieces. Instead, we'll look at puzzles categorized by the different dog breeds. Of course, we won't leave out cute puppy jigsaw puzzles. 😍
At the end of this list, you'll find a few dog jigsaw puzzles for adults, which feature more different dogs together. The more, the merrier, right?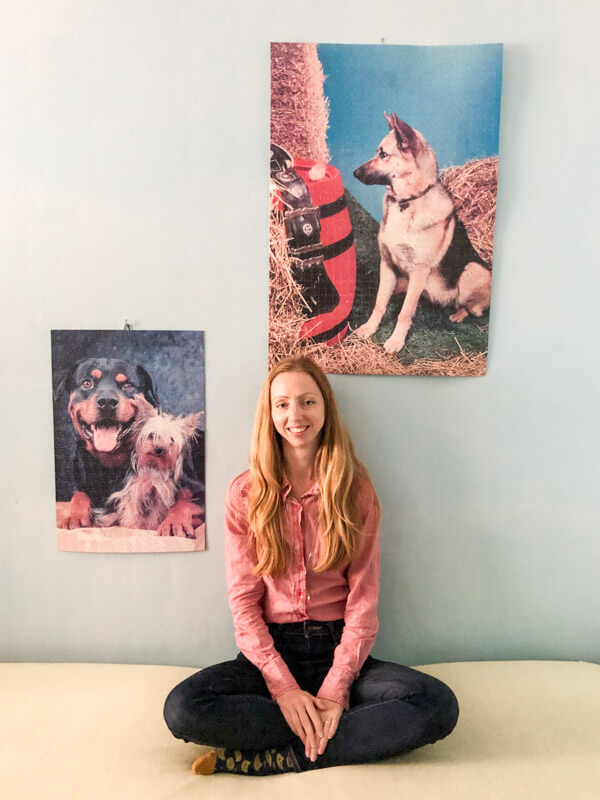 Comparison of the Best Dog Jigsaw Puzzles
Here you can see a quick overview of carefully picked jigsaw puzzles with dogs. I write more about each puzzle further down below.
Why Go for Jigsaw Puzzles With Dogs?
Any dog lover will be sure about the urge to put together a puzzle of a cute pooch. Jigsaw puzzles of dogs keep the love of dogs going, whether you currently have a four-legged friend or not.
For some, it revives a memory of a best friend long gone. For others, it's an alternative to having a dog. I've never had a dog despite having begged my parents for one ever since I could talk. In this stage of life, I travel a lot, and thus I'm saving having a furry companion for old age. 🤞
Puppy Jigsaw Puzzles: Naughty Puppies by Anatolian (1,000 pieces)
Let's start with puppies straight away. I solved this puppy jigsaw and it was a pleasant experience. Anatolian is a well-known brand originally from Turkey, producing good-quality puzzles at an affordable price.
Puppy dog jigsaw puzzles are usually illustrated, just like this one. This particular image features a lot of different pups and bright colors, so it's quite easy to solve. The pieces don't fit as tight but it's not a problem because of the image. 
The surface has an anti-glare finish, which helps even in low-light situations.
The puppy puzzle is of 1,000 pieces. It's perfect for adults or older children.
A special box stand comes included in every puzzle, so you can position the top lid with the image in a way to be able to better look at it while puzzling.
Anatolian offers missing piece support worldwide, for free! I've never tried it, though.
Once finished, the puzzle measures 26 x 19 inches (66 x 48 cm).
Now, starting with the individual dog breed jigsaw puzzles:
Dachshund Jigsaw Puzzle by Better Me (500 pieces)
Are you in love with the wiener dogs? Then you need to look at dachshund jigsaw puzzles. 😁
This dachshund jigsaw features both puppies and older dogs, long-haired and short-haired, enjoying various activities.
This 500 piece dog puzzle provides a perfect puzzling experience for all ages. Puzzling pros can enjoy it too, even though it'll be a breeze for them. It's also a great gift idea for any doxie lover.
Better Me company is a family-run business that specializes in games and puzzles. The pieces are sturdy and interlock beautifully.
Once finished, the puzzle can be easily framed. It measures 19.3 x 14.2 inches (49 x 36 cm).
Corgi Jigsaw Puzzles: Museum of the Corgi by Galison (1,000 pieces)
Who has the cutest fluffy butt? A corgi, of course! If corgis are your preferred dog breed, there's no doubt – you need to get yourself a corgi jigsaw puzzle.
This vivid jigsaw shows an illustration of corgi museum goers perusing artworks featuring corgis. 😄 It's a corgi overload, in a good sense!
The colorful image will make for easy puzzling even though it's a corgi puzzle of 1,000 pieces, which is a lot for a beginner.
Galison is known for its high-quality puzzles made out of recycled materials. The pieces are a bit thin but still interlock fairly well.
Unlike earlier Galison puzzles, the pieces of this 1,000 piece dog puzzle are the standard ribbon cut so you get the 6 different types of shapes, which helps in puzzling and is more fun. The manufacturer used to make puzzles with pieces of the same shape.
There's a small poster inserted in the box showing the complete picture.
The completed puzzle is 27 x 20 inches (69 x 50 cm). 
Border Collie Jigsaw Puzzles: Momo the Dog by Galison (500 pieces)
One of the smartest dog breeds there is – the border collie – has its own dedicated dog jigsaw puzzle motif too. 😍
This border collie jigsaw features Momo, who travels with her human, a photographer Andrew Knapp, around the world. If you have a similarly colored border collie, you can surely relate.
The puzzle has 500 pieces – all of the same shape. But fear not – once you get the hang out of it, you'll soon be able to tell which pieces are horizontal and which are vertical. Given how the image is divided into 16 distinct sections, it's not going to be too challenging.
As mentioned above, Galison puzzles are of good quality, just don't expect sturdy pieces with flawless interlocking. They are made in China.
An insert of the whole picture is included with every Galison puzzle.
Once finished, the puzzle measures 20 x 20 inches (51 x 51 cm). 
Pug Jigsaw Puzzle: Donut Doug by Buffalo Games (300 pieces)
If you love pugs, you must have come across Doug the Pug. 😁 The celebrity dog is shown happily dreaming about donuts on this pug jigsaw puzzle.
The jigsaw has 300 extra-large pieces, so it's perfect for children and elderly people. It will please any pug aficionado, though. Whether you're in for a quick puzzle time or want to enjoy puzzling with your grandparents, this pug jigsaw is the one to pick.
It's made in the USA by Buffalo Games, which is a traditional brand producing high-quality puzzles. The pieces, even though produced from recycled cardboard, interlock super well.
A puzzle poster comes included, which makes it even easier to puzzle with more people.
There's a missing puzzle piece warranty for puzzles made in the last 4 years.
When finished, the puzzle size is 21.25 x 15 inches (54 x 38 cm).
Golden Retriever Jigsaw Puzzle: Christmas Delivery by Vermont Christmas Company (1,000 pieces)
This Golden Retriever jigsaw combines the best of all worlds: puppies and Christmas! A special delivery indeed.
There just cannot be any cuter Christmas dog jigsaw puzzles. The illustrator Jason Kirk did an excellent job.
This adorable litter of Golden Retriever puppies will delight any dog lover, whether they like only golden retrievers or not. 
Vermont Christmas Company is another traditional brand and manufacturer of puzzles of exceptional quality. The durable pieces snap together well.
It's perfect to put together at Christmas, ideally for the whole family!
When you complete the puzzle, it will measure 26.6 x 19.25 inches (68 x 49 cm).
German Shepherd Jigsaw Puzzle: German Shepherd Puppies by CVPuzzles (500 pieces)
Well, I didn't plan to have a majority of puppies in this post but it turns out there are not too many German Shepherd jigsaw puzzles out there! Who would resist these three cuties, though?
My father has always had a German Shepherd and for me, it's a role model dog. So smart, easy to train, and how cute are the puppies' large paws?
Back to the puzzle, though. The combination of the motif and the number of pieces makes it a mid-difficult jigsaw puzzle. An experienced puzzler will be done within a day, that's for sure.
CVPuzzles is an established brand and you can count on a good quality of the puzzle. It's not a premium brand, though. The pieces may sometimes feel slightly loose. Still, if you're specifically after a German Shepherd jigsaw, this is the best one there is on Amazon as of now.
The finished puzzle measures 20 x 16 inches (51 x 41 cm).
Bulldog Jigsaw Puzzle: What Are You Lookin At? by Masterpieces (300 pieces)
Don't you just love bulldogs and bulldog jigsaw puzzles? The artist Dean Russo really captured the typical look of a bulldog. A bit bored, a bit annoyed, but cuddly nevertheless. 😊
This puzzle may have just 300 pieces but the random cut makes it especially fun. It's an artwork worth hanging and will brighten up any wall!
A puzzle poster comes included and because of the large size of the pieces, it's perfect even for people with motor skills issues.
The highly-rater Masterpieces brand makes great-quality puzzles at an affordable price. They are produced in China.
When finished, the puzzle size is 24 x 18 inches (61 x 46 cm).
Beagle Jigsaw Puzzle: Panorama Collection by Clementoni (1,000 pieces)
Beagle jigsaw puzzles featuring puppies! Shut up and take my money! 😁
The cute beagle puppies with their floppy ears and innocent looks will melt anyone's heart. And the one yawning puppy? Oh my 🥹
The 1000 piece dog puzzle will provide a pawsome experience. The puzzle is quite challenging, though, because it's just puppies on a grey wooden background.
Clementoni is one of my favorite brands. They produce puzzles of superior quality and the pieces interlock wonderfully. They are made in Italy.
This panorama puzzle will look great in any kids' room.
The finished puzzle measures 39 x 12 inches (98 x 30 cm).
Ok, now that we're done with the most popular breeds that have their own jigsaws, let's look at a few other dog jigsaw puzzles for adults. ⬇️
Ravensburger Dog Jigsaw Puzzles: Dogs Galore by Ravensburger (1,000 pieces)
If you've read my jigsaw puzzle blog for a while, you know I'm a huge advocate of Ravensburger puzzles. I truly think they're the best quality. So I had to include a 1,000 piece dog puzzle by this brand.
There are 87 dogs of all breeds on this jigsaw. You're likely to find your preferred breed too. Many of the doggos are puppies, which always adds another level of cuteness.
Beware, this puzzle is not easy!
The pieces are as high-quality as can be and snap together perfectly. The anti-glare surface helps when using artificial light.
Even though this image is busy enough, you can count on each piece fitting in one exact spot only.
Ravensburger puzzles are made in Germany. The tradition of the brand dates back 130 years!
When finished, the puzzle is 27 x 20 inches (69 x 50 cm). 
Dogs Playing Poker Jigsaw Puzzle by A2PLAY (1,000 pieces)
This seems to be such a classic puzzle that I had to include it too.
Dogs engaging in a game of poker – wait, what? A situation that could never happen in reality 😅 but fun to imagine while puzzling.
I don't have any experience with the A2PLAY brand, but this 1,000 piece dog puzzle is made of durable materials and well-rated, with perfectly-fitting pieces.  
The puzzle box contains a double-sided poster and lists some unique facts about dogs and poker.
A2PLAY is an American brand producing puzzles in China. The brand provides missing piece support, too.
The finished puzzle measures 27.5 x 19.7 inches (70 x 50 cm).
Funny Dog Jigsaw Puzzle: A Dog's Life by Buffalo Games (750 pieces)
When browsing through all the dog lovers jigsaw puzzles, I kept coming across this funny one of a dog sitting on a toilet. It has so many high reviews that I decided to include it too.
The dog lives a human-like life, reading his Canine Daily paper. 😁
Again, Buffalo Games is a well-known and reputable brand proudly manufacturing its jigsaws in the USA. You can be sure the puzzle pieces will fit and hold well.
A great idea is to hang the completed puzzle in the bathroom!
The puzzle features 750 pieces, which is just about the right challenge for anybody. Puzzle pros will be done with it in no time.
A bonus puzzle poster is included in the packaging.
When completed, the puzzle measures 24 x 18 inches (61 x 46 cm).
Ok, and as I promised, here's another fun fact that illustrates my love of dogs from an early age. When I was seven and saved up enough money, I took a larger sum and went to the store by myself, buying a comprehensive dog encyclopedia. (In case you're curious, it's this one.)
My parents weren't too happy about the fact that I walked around with a lot of money and made a significant purchase without consulting them and being accompanied by them. 😅
I hope you've enjoyed going through these puzzles and have picked one out that you or someone you care about will love.
Until next time, frens! 🐾
Pin this post for later: